Review of:
Edinburgh Fringe 2013 – Britain's Got F*ck All Talent! 2013
Price:

£7.00

---

Reviewed by:

newwithhashtags

Rating:

4

On

August 11, 2013

Last modified:

August 11, 2013

---

Summary:
More Details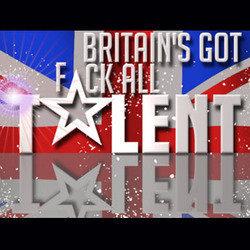 Courtesy of www.edfringe.com
Venue: Just the Tonic at The Caves
Time: 15:35
Duration: 1 hour
Type: Comedy
Andrew:
It's funny how all the staff were referring to this as 'Britain's got….'! There were 4 acts (all by the same person) of which 2 were really funny, the other 2 not so much. I did think that they would have made fun of the typical sob stories you find on Britain's Got Talent, but they didn't.
This is one of those shows where you really don't want to be sitting in the front row. Even the second row isn't safe!
Kath:
I thought it was fun that this show was a complete p*ss take of Britain's Got Talent, although it could have just been any talent show to be fair. The red and green voting cards they gave us reminded me of Ready Steady Cook.
As mentioned previously, there were 4 acts and the first and last ones were so funny, the middle 2 not so much. It is impressive that one man can do so many different characters. What made this show so funny is the participation from audience members. Males beware, he didn't pick on any females to come up on stage!