Review of:
Edinburgh Fringe 2013 – Bonk!
Price:

£8.00

---

Reviewed by:

newwithhashtags

Rating:

1

On

August 11, 2013

Last modified:

August 11, 2013

---

Summary:
More Details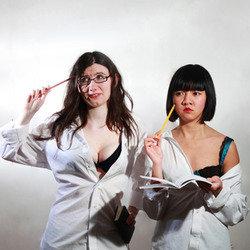 Courtesy of www.edfringe.com
Venue: theSpace @ Jury's Inn
Time: 21:20
Duration: 50 minutes
Type: Comedy, theatre
Andrew:
This show consisted of 5 people dressed in lab/butcher coats trying to talk/sing about sex in a funny way. Unfortunately it mostly wasn't funny, but was actually very tacky. There were the odd parts where it gave me a smirk but overall I wouldn't recommend it.
Kath:
Wow… what on earth were they thinking actually going through with this?! Such a disappointing and unnecessary show which decided to patronisingly tell you how to apply a condom, and then surround that with lots of bad singing and annoying acting. Boring, ridiculous and generally one to avoid.