Thanks for following MamaChallenge.com! 
Today on WFAA Good Morning Texas I've put together some simple treats that taste delicious and can cool you down in the heat of the summer!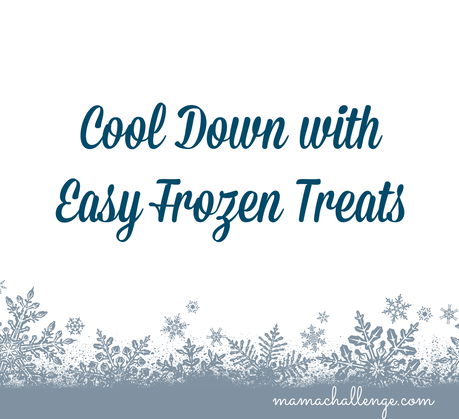 Stay tuned tomorrow for my post on my son's recent "Frozen Birthday Party!"
Make even water a fun treat with rainbow ice cubes and fruit!
RAINBOW ICE CUBES
Ice Cube Tray
Water
Food coloring
Fill ice trays with a few drops of food coloring. Freeze until ice (overnight). Put in a glass and allow to melt for the colors to make a rainbow.
NUTELLA COOL WHIP ICE CREAM POPSICLES
From 52 Kitchen Adventures blog
1 c. Cool Whip
½ c. milk
3 Tbsp. Nutella
Blend and freeze in popsicle molds.
Bananas can be the base and you can add what you want for instant ice cream.
(BANANA) MINT CHOCOLATE ICE CREAM
Ripe frozen bananas
3-4 drops of mint oil, flavoring
½ cup of chocolate chips
Blend bananas until smooth. Then add oil and chocolate chips and blend just until smooth.
This is such a simple snack, but guests of the Joule drool over this grape snack.
FROZEN GRAPES
2 c Red Grapes, rinsed and stemmed (or a mix of any variety of grapes)
¼ c sugar
Place grapes in a gallon-size plastic resealable bag with sugar.
Seal and shake bag to coat grapes.
Empty grapes onto a paper towel to air-dry.
Place grapes on a baking pan and allow to freeze for 2-3 hours. Serve.
YOGURT SORBET  
1 cup of frozen berries
1 cup of Greek yogurt
2

tbsp honey
Blend until smooth and serve.