Easter Carrot Cake
This is one of my favorite recipes when it come to Easter. My mom will always make me Easter Carrot Cake on every good Friday. I don`t know why our family won`t have it another other day during Easter period. But any ways this is my mums recipe I hope you can enjoy it as well. If you are not a big fan of sweets than you might want to avoid this Easter carrot cake recipe as it is very sweet. Otherwise enjoy however you want, a piece of advice this recipe tastes divine after a healthy lunch meal.
Ingredients
3 eggs
1 1/4 cups corn oil
1 1/3 cups packed brown sugar
2 tsp. baking soda 2 tsp. cinnamon
1/2 tsp. salt
2 cups all-purpose flour
1 8-oz. can crushed pineapple in natural syrup
1/3 cup shredded coconut
1 cup coarsely chopped walnuts
3 cups grated carrots (about 4 carrots)
Instructions
Preheat the oven to 350 degrees.
Grease and flour a 13-by-9-by-2-inch pan.
In a large bowl, beat the eggs, oil and brown sugar until well blended.
In a separate bowl, sift the baking soda, cinnamon, salt and flour, then gradually add it to the egg mixture; do not over mix.
Add the pineapple and syrup, coconut, walnuts and carrots, and beat well.
Pour the batter into the prepared pan and bake for 45 to 55 minutes, or until a toothpick inserted in the center of the cake comes out clean.
Cool in the pan for 10 to 15 minutes.
Invert onto a cooling rack and cool completely.
Tastes well with vanilla cream.
Enjoy!
Serves 12 to 14.
Liked this recipe than you`ll enjoy making these recipes as well.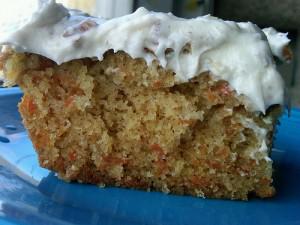 Photo by HeatherHeatherHeather

Rating: 0.0/
5
(0 votes cast)