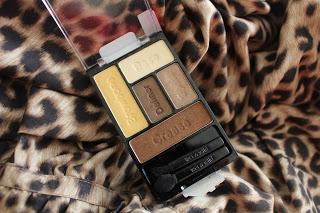 As any good beauty addict knows, Wet n Wild eyeshadows can be very hit or miss. They can range from being incredibly pigmented and smooth to absolute crap.  Melrose Face is one of their newer ones as it is part of their fall Here's to the Wild Ones collections. I have used it a few times and I love it. It is a neutral palette, but it has  different tone to it thanks to the gold highlight shade.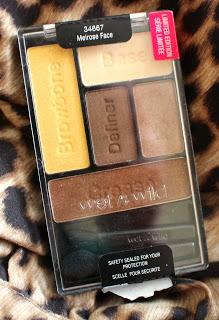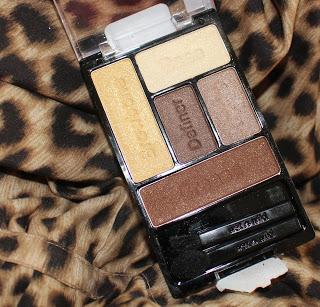 There are five eyeshadows in the palette and in typical Wet n Wild style, there are labeled according to where they should be worn. Or at least where Wet n Wild thinks they should be worn.
The brow bone shade is a shimmering golden yellow. When I first looked at the palette, I thought that there was no way it could actually work on the brow bone. But since the pigment is more on the sheer side, it works. It applies much more lightly than it looks.
The base shade is s pale golden beige with shimmer. Even though this is a lovely shade, I don't really like using shimmering eyeshadows as a base. But it works fairly well with the rest of the shades.
The defining shade is a satin chocolate brown with the slightest hint of shimmer. It is a beautiful shade that serves is purpose well. 
The eyelid shade is a beautiful light shimmering bronze. As you have probably already noticed, there are no mattes in this palette.
The crease shade is a medium brown with gold shimmer. This shade really adds warmth when worn with the other shades.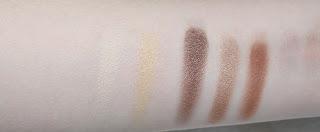 With flash.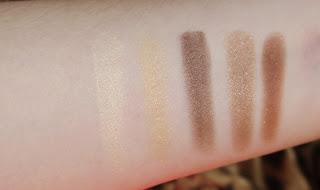 Without flash
The texture and overall formulation of these eyeshadows is great, especially considering how inexpensive this palette is. They are buttery smooth, blend very easily, are not powdery, chalky, and there is no fall out. Oh, and the pigment is wonderful, too. I haven't had a single issue with the eyeshadows.  I have been wearing them over Benefit's Air Patrol and NYX's Eyeshadow Base. I have experienced no creasing or fading with either primer.  They rival, and even outcompete, the quality of some higher end eyeshadow formulas.
This is a limited edition palette, so it might be difficult to find. I found this one at CVS, and I believe Walgreens should have it, too.  You will also want to pick up the lipsticks in the Heres to the Wild Ones collection. They are just as great.