I do not remember when for the first time I have met Stephanie, but it must have been one of Connecting Women gatherings in The Hague. Stephanie is kind person always willing to help you. Actually together wile brainstorming we come up with the name of my company / website: www.dreamjobdiva.com. 
Name:    Stephanie Ward
Country / city:                       (originally from United States); The Netherlands/Apeldoorn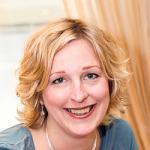 What is your dream?
To do work that I am passionate about and find meaningful, and make a living doing it. It is also my dream to help others do the same.
What is my dream job?
Helping small business owners and entrepreneurs attract more clients and grow their businesses.
How did you achieve your goal = dream job? / how do you plan to achieve your goal=dream job?
I followed my heart and intuition and went searching for meaningful work and with the support of many people I found it and pursued it. I started my company, Firefly Coaching, in 2002 and since have enjoyed supporting inspired entrepreneurs to create sustainable businesses.
What is your tip to others concerning the Dream Job / Life?
You only get one life (as far as I know) so make the most of it. Don't let fear stop you, be confident and go for your dreams. Stay in the present moment and keep taking action, no matter how small it may seem. Action creates momentum and that keeps you inspired. Don't wait until you think you're ready, start now.
Who are you?
I'm a Marketing Coach for Entrepreneurs and I help small business owners attract more clients & create meaningful and prosperous businesses. I offer a Free Special Report, 7 Steps to Attract More Clients in Less Time, plus business building tips at my website www.fireflycoaching.com.
Coordinated by Dream Job Diva