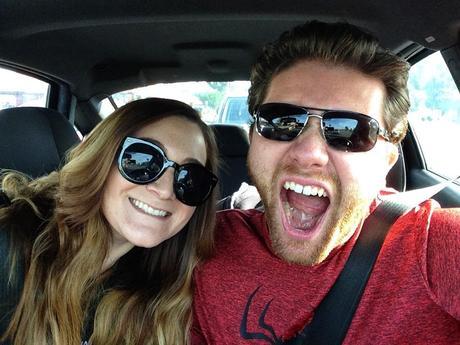 The last time I was at Disneyland was December of 2012. I went with a friend and I'm pretty sure I talked about Stephen the entire time because he and I had just met. I think two years is the longest amount of time I've gone without going to Disneyland. My parents have been taking me to Disneyland since I was a baby. Literally. If I were at their house right now I'd find a photo and post it on here. (Note to self. I'll have to do that at a later date. Disneyland visits through the years.) Anyways, we used to have passes. My mom would take my brother and I during the week after school. It was amazing. We'd just ride a couple rides and then go home. I can't count how many times I've been or how many friends I've been with. It's nice now because I know exactly where everything is in the park and I don't HAVE to ride everything. I'm totally fine riding one or two rides and then people watching. BUT I'm also the worst person to go with if it's your first trip. After a couple hours I'm over it.
My mom and Stephen's mom had bought us day passes for my birthday back in February. My brother and sister-in-law were supposed to go with us. But on my actual birthday it was pouring rain. I love rain but it was so bad we couldn't see the car in front of us on the freeway. So we had to save our passes. Well, December approached quickly and our passes were going to expire on the 31st so my fiancé and I HAD to go. I was excited, especially because my fiancé told me these were my birthday present and we were supposed to go on my birthday so we could pretend it was my birthday! He said we could do whatever I wanted. I told him the two things I for sure wanted to do was watch Captain EO and the fireworks show at 9:30. I was so upset to find out that Captain EO is no longer playing at Disneyland.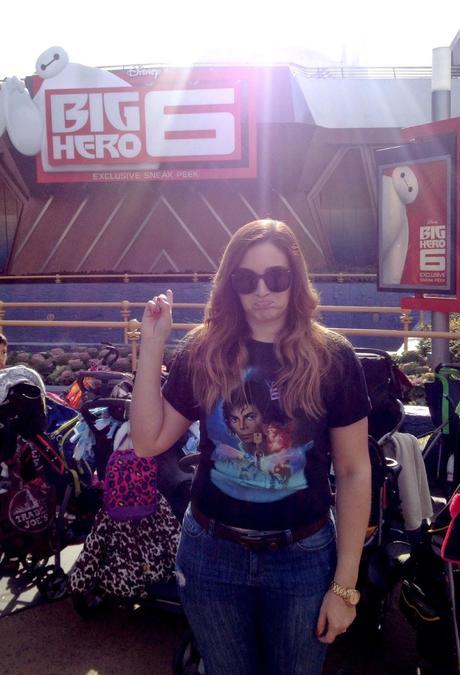 The castle looked so pretty decorated with snow and lights. And we were wearing t-shirts.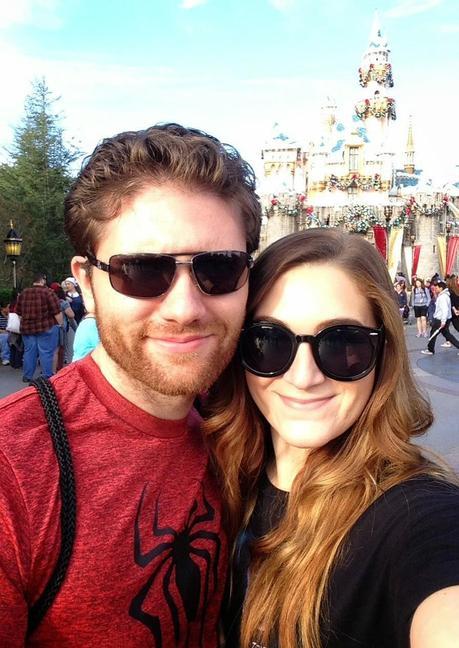 Stephen was really upset to find out the haunted mansion was transformed into a Nightmare Before Christmas mansion. Him and I have never been fans of the Nightmare Before Christmas. I told him I never made it through the movie. He told me, "I tried watching it three times and I fell asleep all three times. This may be the first time I fall asleep in the haunted mansion." I laughed so hard.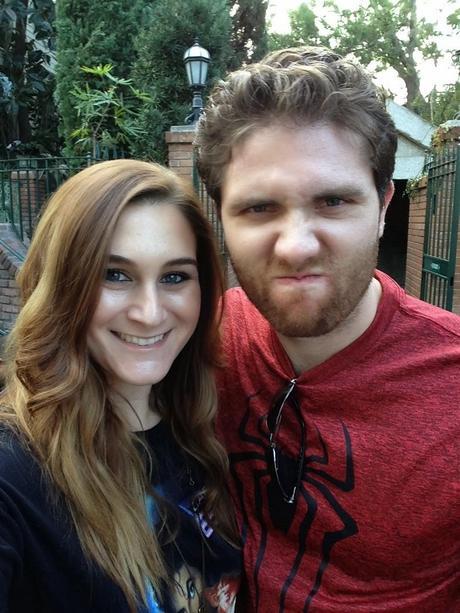 The park was so busy. There were many times we could barely move. I was in desperate need of coffee and I knew there was a Starbucks on Main Street. It took about thirty minutes to get there on feet but it was worth it!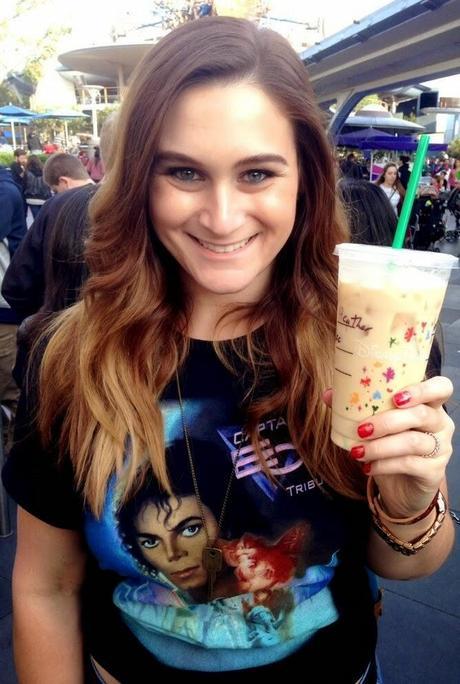 I absolutely love the Starbucks cups at Disneyland. The little characters are so cute!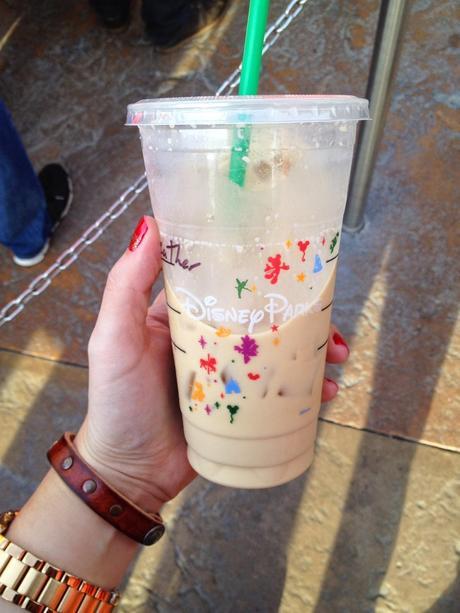 We made it over to the Star Wars store in Tomorrowland. My fiancé fell in love with this Yoda backpack. In case you don't know, he is a huge fan of Star Wars, Spiderman, Doctor Who and all things nerdy. He holds a special place in his heart for Yoda. He had also seen a couple people walking around the park with Darth Vador Mickey ears and he wanted them. So, he bought himself the Yoda backpack and the Darth Vador Mickey ears.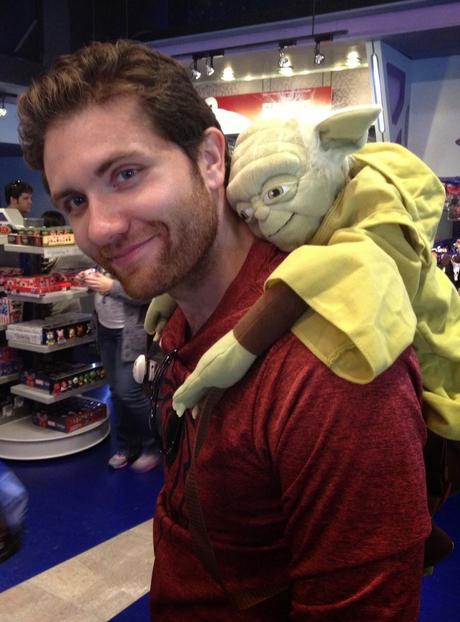 I wanted a photo in front of the Christmas tree. He called it a family portrait and he made sure Yoda was in the photo.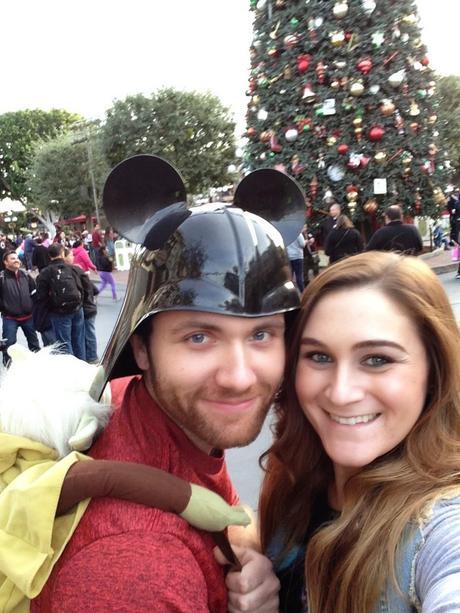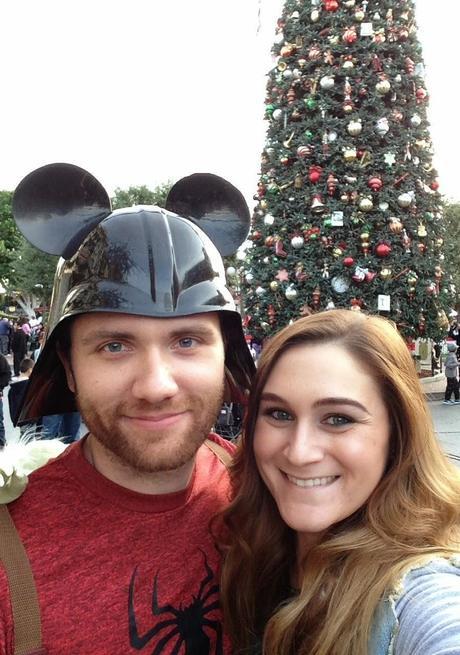 And then he let me take a photo without the ears.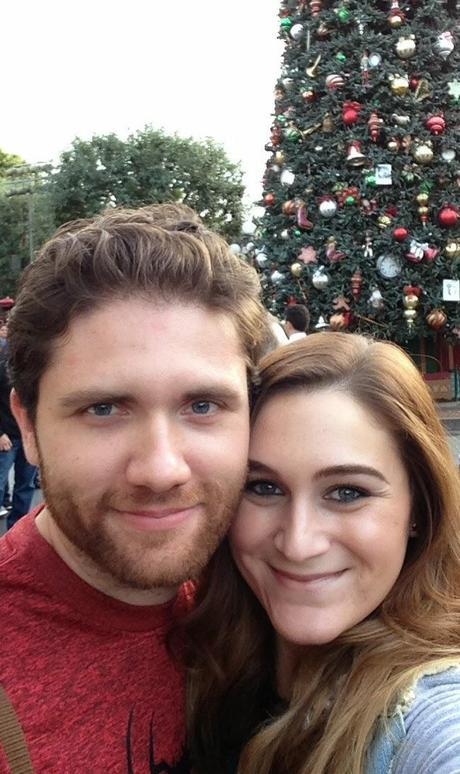 This is how he walked around. I love him so much.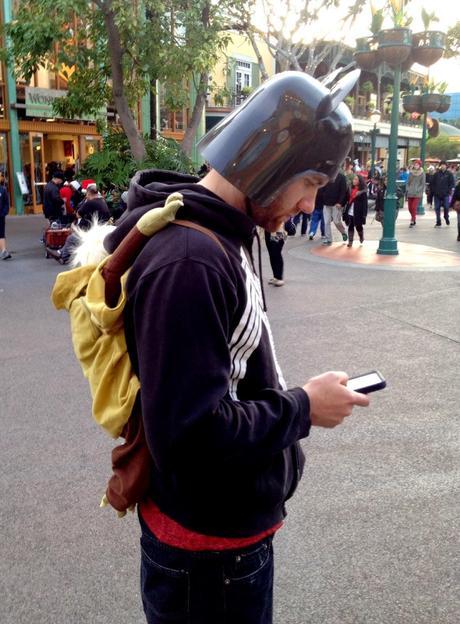 He needed a pic with me wearing the ears.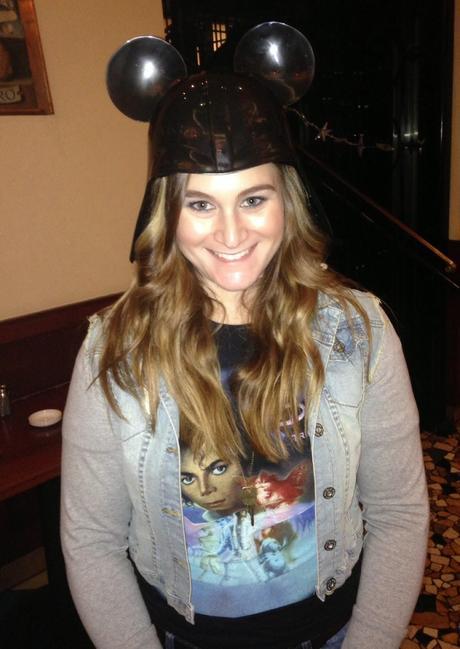 They had the cutest high heel ornaments. Each one represented a different Princess or Disney character. I told Stephen I would love to do a tree with just the heels.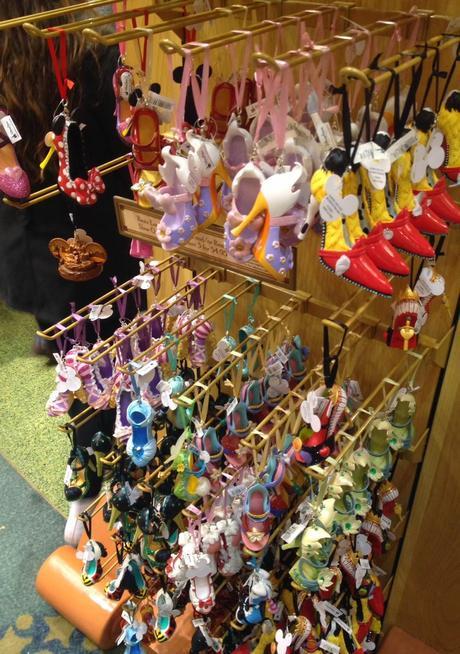 We ate dinner in Downtown Disney and when we tried to go back in the park it was crazy! There was a Christmas parade going on. We tried to make it to the back of the park because we hadn't been there yet. I was able to see a little bit of the parade while it was passing. I screamed when I saw Woody. He's my favorite!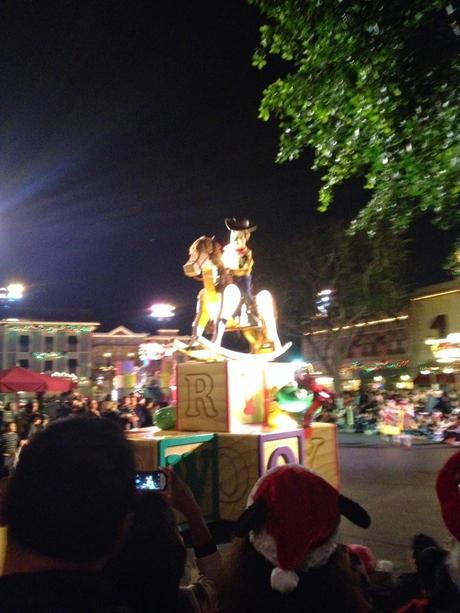 We also saw Santa Claus.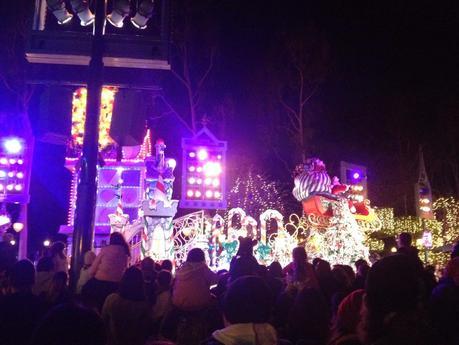 The castle looked so beautiful all lit up.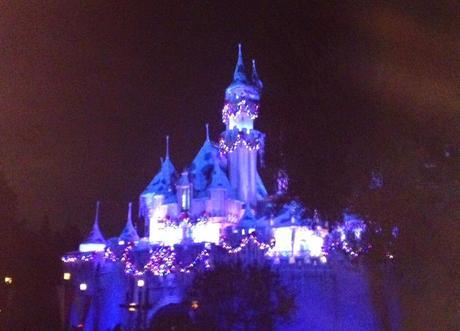 When the parade was over this was what we were up against. We decided to call it a night. We were talking about how exhausted we were. I told him I was totally okay missing the fireworks show. When I looked at the time I saw that it was only 6:30. It hit me right then that I am not young anymore. I blamed it all on the fact that we had a 2 hour drive home.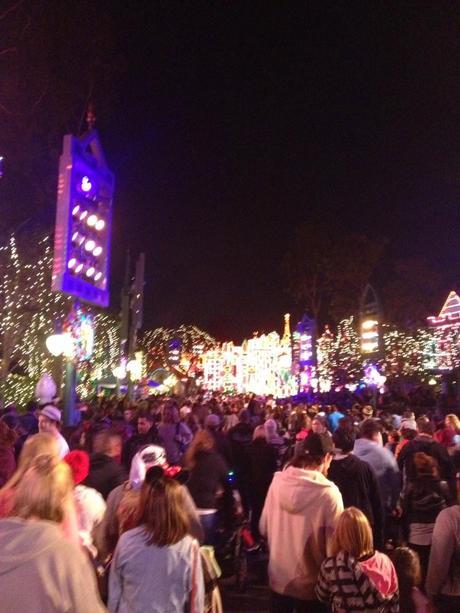 On the way out I had Stephen take one last photo of me. I wanted to put it next to a photo of my mom from their honeymoon. Yesterday was my parent's 29th wedding anniversary and they went to Disneyland for their honeymoon. So these two photos show my mom and I 29 years apart in the exact same spot. Only my mom could wear heels to Disneyland.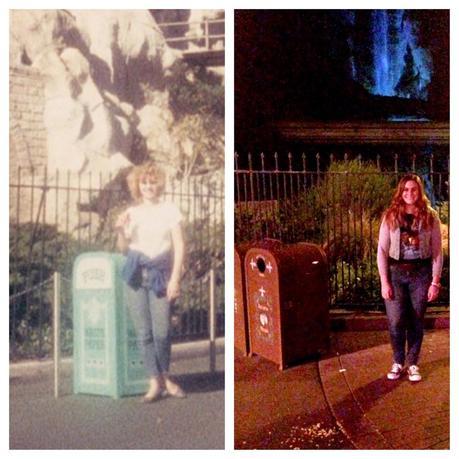 We waited in line for 30 minutes to get on the tram to go back to the parking lot. We stopped at Starbucks because I needed a coffee. I offered to drive home so my fiancé could sleep. I drank my coffee and sang the whole way home to keep myself awake. I didn't get to see Captain EO or the fireworks show and we only rode four rides but we were there eight hours and we had a very nice time together. My favorite part was talking about our babies. We brought them up at least once every hour. We were trying to pick middle names. We have their first names chosen already (they are unisex so they will work for boys or girls) but we have not chosen middle names yet. We also talked about what it will be like when we take them to Disneyland. When we were leaving I told Stephen, "Our kids are going to hate us. We're exhausted at 6:30." He said when we do bring them we will definitely get a hotel there so we can stay later and visit two or three days in a row. Great solution babe!
My fiancé wanted to buy me a souvenir because it was my birthday after all. He reminded me the whole day. The only thing I wanted was this bracelet. I had it customized to say my future last name. He also bought me my coffee on the way home. I didn't need anything else.