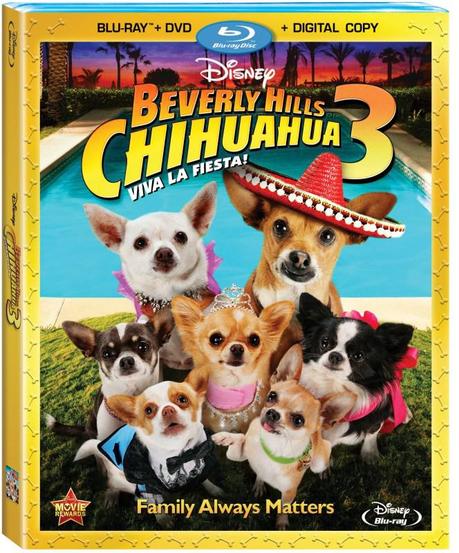 Last night my boys couldn't wait to finish homework and dinner since they knew we were having a very special treat. We were going to watch Beverly Hills Chihuahua 3 on DVD. This is the first live action film the boys have seen and they were so in love with the chihuahuas they could barely contain themselves. I had to join them on the couch and let them nestle up to me under a warm throw. They had lots of questions about the hows and whys of the story, which is a great way to engage your child and teach them about event sequencing and cause and effect. But overall it is just a fun, cute movie that really reminds you that family should always be there to support you.
"Everyone's favorite talking Chihuahuas Papi and Chloe are back, joined by their five playful pups in an all-new family comedy. It's canine chaos as Papi's family move into the posh Langham Hotel, complete with a luxurious doggy spa. But there's trouble in puppy paradise when Rosa, the littlest member of the pack, feels smaller and less special than ever. Now it's up to Papi to help Rosa find – and celebrate – her inner strength, which turns out to be bigger than she ever dreamed and reminds humans and canines alike of the importance of family, friends and teamwork."
The DVD was released September 18, 2012, and Matthew already found it advertized in our local Toys-R-Us ad. The movie runs 89 minutes and the disk includes Bonus Features such as "Hanging with Papi" and a music video "Living Your Dreams". I was really excited to see my boys move from strictly animated movies to ones featuring live creatures. The evening could only have been better if I had remembered to make popcorn. The 1-Disc DVD is $29.99 in the US, but there is also two 2-Disc Combo Packs, one that includes a Blu-ray, DVD and Digital Copy, they other without the Digital Copy.

You can stay connected with Beverly Hills Chihuahua 3 on Facebook and Twitter, or view clips and trailers. My family thoroughly enjoyed Beverly Hills Chihuahua 3, I hope yours will also.
I was provided with a free copy of Beverly Hill Chihuahua 3 in exchange for an honest review.