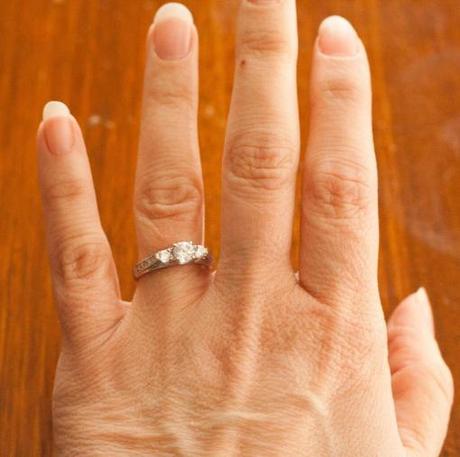 Diamonius Reviews Monaco Ring
When I was pregnant with Matthew, our first child, Larry decided to take me to Las Vegas for one last hoopla. Of course things never turn out exactly like we expect. This time my brother-in-law and his fiancee asked if they could join us. Of course we said yes, the more the merrier! Well one thing led to another and instead of it being my last birthday party before we became parents it turned into my brother-in-law's wedding. Larry and I were asked to be the best man and matron of honor. We were both so flattered, especially since I was 8 months pregnant and very swollen, and probably not looking my best. So when we walked out of the little chapel, arm in arm, me carrying flowers and visibly VERY pregnant it isn't surprising that people on the street outside loudly stated "Aw, isn't it nice they finally got married."
Because of my pregnancy I couldn't wear my wedding set, and right after that statement was made I told Larry he had to buy me a replacement band for me to wear for the duration of my pregnancy. Wouldn't Diamonius have been the perfect solution? Diamonius has simulated diamonds in gorgeous settings at very reasonable prices. I had to settle for a so-so looking band when I was in Vegas, but with Diamonius I could have had a set that looked remarkably similar to my real wedding set.
Diamonius Reviews
Diamonius sent me the Monaco Ring to review and I have to say it is lovely. The setting has a brilliant cut center stone with two smaller brilliant cut stones on either side. It is finished with 5 pave set stones on the outside of those simulated diamonds. It is a delicate and feminine ring that I think would make any woman feel good. I know I was very excited when I opened the box for the first time. I have actually been wearing it daily since receiving the Monaco Ring. The base metal of the ring is sterling silver and the simulated diamond is actually hard enough to cut glass! I think that is super cool. The Moraco Ring is also inclusion free and clear in color. That means is sparkles and shines all the more.
To find out more about Diamonius please visit their website.
I was provided with the Monaco Ring to facilitate this review. All opinions are my own.