Now one can make anything for desserts this Christmas but honestly if you believe me than you ought to make this DIABETIC'S PUMPKIN PIE which is just perfect for anyone enjoying it. This DIABETIC'S PUMPKIN PIE recipe is one of healthy lunch ideas finest. A recipe fit for christmas or any other occasion and also fit for anyone regardless of age group. Give this DIABETIC'S PUMPKIN PIE from healthy lunch ideas a shot and share with us your experience.
Ingredients:
1 baked, cooked 9 inch pie shell
2 sm. pkgs. sugar free instant vanilla pudding c. milk
1 c. canned pumpkin
1 tsp. pumpkin pie spice
1/4 tsp. nutmeg
1/4 tsp. ginger
1/2 tsp. cinnamon
Directions:
Blend all ingredients in blender until smooth.
Use plain canned pumpkin.
Do not use canned pumpkin pie mixture.
Pour into pie shell and chill until ready to serve.
Enjoy!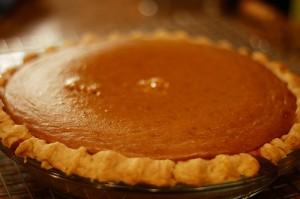 Photo by: browniesfordinner