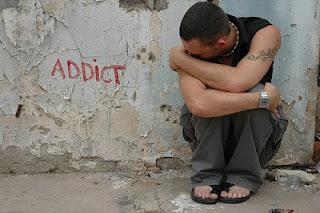 Addicts live with depression. 
The active addict is generally depressed, feelings of worthlessness, loneliness, anxiety, fear, and anger leading to the absolutely over-powering and overwhelming need to escape their world. I know. I am one. Shame is the biggest contributor to this depression, being born of the others, and also the precursor to them. A dichotomous irony.
The general reasons for escaping to alcohol and drugs are the everyday problems of life allowed to become so large in the addicts' mind that they can see no way to solve them. Dealing with employers, lovers, friends and family often entails complicated and unclear remedies which are very hard to deal with, especially if their best efforts have produced no resolution. Powerlessness over these situations leads to feelings of shame, which in turn leads to low self-esteem, anxiety, and anger. These lead to a choice to escape, many times using substances as the vehicle.
Substance abuse deepens depression by magnifying the inadequacies and insecurities the addict already feels.These are also reinforced by the horrible and despicable actions we choose while using, and add immeasurably to the feelings of worthlessness and shame.We as addicts become hopelessly depressed by the very act of addiction, and continue this vicious circle by continuing to choose substance abuse, escape, as our answer. We all know this does not work.
Addicts have been taught that they are "diseased", incapable of making rational choices, and unable to understand themselves. This fallacy adds to the addicts depression and brings the pendulum full-swing. We cannot make right choices, therefore we make the choice to keep using. This is the control factor. We as addicts cannot control our emotions, our circumstances, our actions, so we make the choice about the one thing we can control. We choose to use.
Addicts are not "diseased". Addiction is a choice, made consciously to escape the problems we feel we cannot solve or control. We allow ourselves to become unable to deal with life by choosing to give up.
We are responsible for that choice, and are wholly and unequivocally responsible for the choices we make after.
We are Responsible.
We make our choices, and arguing that we didn't understand what we were getting into is no excuse. We cannot excuse ourselves form our responsibility by using a "disease" as our fall guy. We relapse, which is just another conscious decision to use instead of stand up and face our problems, and we are told this is part of recovery. Relapse is NOT part of recovery. Relapse is part of using. Plain and simple.
All of these factors cause depression to spiral out of control until the depressed state is the only state in which we feel comfortable, and substance abuse is the means by which we refill the depressive coffers and therefore continue in our new comfort zone. My conclusion is that substance abuse becomes secondary as the primary driver of our actions, and therefore I conclude, in my experience, that substance abuse is separate from the problems which caused us to look for escape in the first place.
I realized that I needed to understand I was wholly and totally responsible for my choices and my actions.
I needed to take responsibility for my emotions and own them. I had made the choice to use, and in making that choice I also took on the entire responsibility for all that happened after. I came to realize that once I had reconciled myself to that responsibility, and understood that it was mine wholly, I needed only to make one choice to recover from addiction. I made the choice to stop using. Detox for 12 days and rehab for 6 months cleared my mind enough to allow me to think deeply about my choices, and I understood for the first time that the addiction and the problems that drove me to escape were separate entities, and that the problem lay in the intermingling of the two.
I made the choice to stop using, and have not used in 10 years. I was free, after making that choice, to revisit the problems which caused my feelings of shame, inadequacy, and insecurity in the beginning and start the work of dealing with them. I could not have done this had I subscribed to the "disease" model and the "relapse is part of recovery" fallacy. My addiction was a choice I made, consciously, by making the choice to use and continue using. These choices caused the depression which led to my believing myself hopeless and helpless, therefore creating deeper depression, the circle continuing ad infinitum. Choosing not use was my recovery from addiction. That simple.
I work very hard these days at making good choices, understanding that I am responsible for each one. I do not think about using or escape. I have made the choice to deal with my life as it comes and to understand there may not be an answer every time. The work that makes this possible does not include reliving my addiction. Taking responsibility for all I have done precludes allowing myself to place any responsibility on my substance abuse. Two separate issues. Choosing not to use solved the substance abuse issue. Choosing to work hard on dealing with life as it comes is alleviating the depression I felt before I used, and choosing not to use has alleviated ALL the deeper depression the shame of using brought with it.
Addicts suffer from depression because they use, much more than they use because of depression. The reasons for escape are separate from the substance abuse. Choose not to use and you have solved the problem of addiction. The work may then begin on dealing with the original problems.
Written By:
Mark
Mark is a regular guy interested in helping addicts recover and reclaim their lives. He was an addict for over 20 years, a liar, a cheat, a thief. He destroyed relationships with family, friends, employers. He spent those years mired in the hurts of the past, unwilling to face them. Mark finally came to realize that he could choose to recover and has been in recovery now for 10 years. He is still repairing those relationships and working out those hurts. Life is not perfect, but he is happy. Mark believes that if he can do it, anyone can. Cliche? He doesn't think so.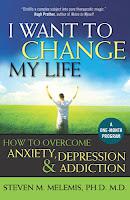 I Want to Change My Life
How to Overcome Anxiety, Depression and Addiction
Discover a five-point plan for overcoming anxiety, depression, and addiction. Learn the symptoms, causes, treatment, and relapse prevention strategies. Learn new coping skills including a new approach to stress management and cognitive therapy and how they can help you. The book includes a one-month step-by-step program to get you started. Dr. Melemis is a leading expert in addiction and mental disorders who has helped thousands of people improve their lives.
Get I Want to Change My Life directly from Amazon,
HERE
   Please help spread the
Addicts NOT Anonymous
word... 
f 
Like
 and 
+1
us bellow!