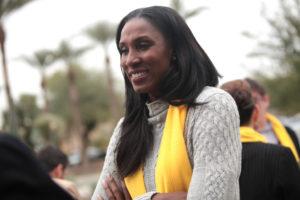 attributed to Gage Skidmore
Numerology Profile of the Amazing Lisa Leslie
Lisa Leslie was THE role model for me growing up.  She is tall, but she exudes womanhood along with athleticism.  She showed me it's possible to be an aggressive post player while maintaining your femininity.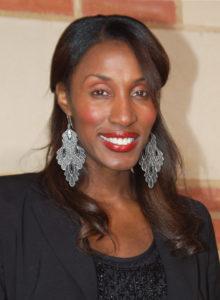 As I researched her life, especially since basketball, I am even more amazed at what she continues to achieve.  The following is her life purpose and challenges decoded using numerology.  If you're not familiar with numerology, click here to learn more.
Lisa's Profile
Born on July 7, 1972, as Lisa Deshaun Leslie, she is a modern-day superwoman who is truly leaving her mark on the world.
Life Purpose
Lisa's life purpose number is a 33- a Master Number which means she's here to shift the consciousness of the world in her own unique way.  We share the same life purpose path!!!  (7+7+1+9+7+2) The life purpose of the 33 is the master teacher and inspired visionary, an energy of powerful creativity and service. 
Thirty-three is all about leadership, abundance, and empowerment…the ability to inspire and empower the world with your words, mind, and actions.
Lisa is a motivational speaker, author, media personality, and former athlete.  The double 3's in her chart means she's here to master performance and self-expression.  In other words, she requires a stage of some kind to express herself.  She's fulfilling this part of her life purpose pretty well.  These channels also allow her to express her abundance leadership energy as well.
In 2012 she began a leadership academy to teach young girls life and basketball skills.  She cares about passing on her knowledge and wisdom to the next generation of women.  She values inclusion and teamwork and includes these values in her teaching pretty regularly. 
When she was inducted into the hall of fame, she made sure she included all the people who assisted her in some way to becoming the remarkable champion that she is.  She says 'I didn't get here by myself'.
Speaking of which, as an athlete, she led her teams, from high school to the pros, to success after success after success.  She is a 4-time gold medalist, 3-time WNBA MVP, and a hall of famer.  Through it all, she maintains her humility and stands for leading by example.
As a young basketball player, she learned this from her coach: "Some people tell people what to do, leaders show them."  As a leader and empowerment coach, she defines for herself what it means to be a woman, and she teaches other girls and young women how to do the same.
Did I forget to mention that she is the co-owner of the L.A. Sparks- leadership combined with abundance energy.
The life path 33 breaks down to a 6 (3+3), which means Lisa is a natural nurturer, champion, and visionary.  She is family oriented.  When watching Celebrity Wife Swap, I noticed that she loves to cook and nourish her family in many ways.  Home life is important to her.  She is an exceptional and loving wife and mother.
The 6 energy is very much necessary in her life, as it is foundational to her existence.  She needs this balance to show up as the mega-leader and inspirer that she is.
As a champion and visionary, she has ample energy to fight for what she believes in.  Teamwork, being a champion on and off the court, tenacity, dedication, prayer, resilience, mental toughness, and effort are just some of the things she champions.  
Some of the challenges she may face in her life are a fear of expression, self-doubt, and perfectionism.  This may seem ironic, but we teach what we are here to master.  
Expression Number
The expression number reflects how you're here to express yourself and your life's purpose.  Lisa's expression number is another Master Number, 22.  I'm expecting Lisa to do big things in her lifetime- Mogul Queen status đŸ™'  
Lisa's wired to express her life purpose as a Master Builder.  Lisa believes in legacy and is building a legacy of empowerment and influence as we speak via speaking, broadcasting, and writing.  Her 22 expression number breaks down to a 4, which means she's all about stability and building things of value.  I see this expression in her home and professional life.  
The double 2 in her 22 expression number also means double harmony, teamwork, and love.  As she builds a life with her husband, write books with fellow businesswomen, or work with gyms and organizations to host her leadership academy, she is in full ownership of this other aspect of her purpose.
The 22 also adds to the energy of leadership, abundance, and empowerment she always possesses from her life purpose number.
Lisa is an amazing role model for any black woman to emulate.  To watch her grow and develop throughout the years shows me that high-level success is possible for me as well.  What can I say, I'm still a super-huge Lisa Leslie fan!
How can numerology help you live your best life?
Lisa is so on purpose, it's no wonder she's so successful and prosperous.  This is how life is supposed to be when you're on purpose!  
Is your life characterized by ease, flow, bliss, and meaningful success?  If not, I'd love to support you.  For a limited time, I'm offering 'Activate your Queen DNA' breakthrough sessions.  
These 30-minute sessions are for those Queens who are serious about reclaiming and expressing their purpose so they can reach their highest potential while living life on their terms.
So if a wealthy and deeply fulfilling life is for you, click here to apply for a 'Activate your Queen DNA' breakthrough session.
Until next time, meditate on this: you are here to live a life of abundance and success.  Claim your life now!
To Your Regal Magnificence,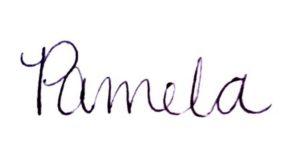 Pamela Brown
The Queen of Bounce Back
Women's Empowerment Coach & Fierce Warrioress