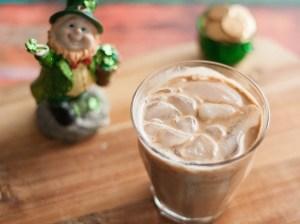 Being 1/4 Irish I have to celebrate St. Paddy's day properly. And that means with a good quality Irish Cream. Since I have pretty much given up real dairy I wanted to see if I could come up with a delicious dairy free Irish Cream recipe that would make my ancestors proud. I think I did it.
Print
Dairy Free Irish Cream Recipe Author: 
Matthew's Puzzle
Recipe type: 
Beverage
  Ingredients
¾ cup Irish Whiskey or Blended Scotch
7 oz sweetened condensed coconut cream (recipe below)
½ cup milk of choice
2 tablespoons chocolate syrup (recipe below)
1 teaspoon espresso powder
1 teaspoon vanilla extract
½ teaspoon almond extract
Sweetened Condensed Coconut Cream
1 can coconut milk (full fat)
1 cup coconut sugar or brown sugar
Chocolate Sauce
1 cup unsweetened cocoa powder
1 cup coconut sugar or organic sugar
1 dash salt
1½ cups water
1 teaspoon vanilla
Instructions
Irish Cream
Combine all ingredients in blender
Mix well
Refrigerate for up to 1 month
Shake well before serving
Sweetened Condensed Coconut Milk
In a sauce pan mix ingredients and heat over medium heat
Cook, stirring constantly, until thick mixture forms and mixture reduces by half
May take 20 to 30 minutes
Remove from heat and allow to cool
Store in refrigerator
Chocolate Sauce
Combine all ingredients except vanilla in a sauce pan
Over medium heat, cook until mixture thickens to your preference
Remove from heat and stir in vanilla
Store in refrigerator
WordPress Recipe Plugin by

EasyRecipe
3.2.1226
Serve over ice or in your favorite coffee. This is a delicious and complex dairy free Irish Cream recipe.