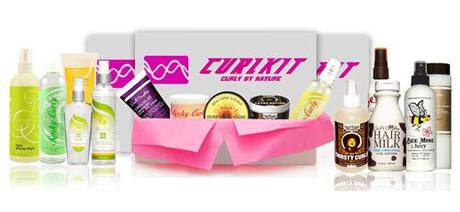 The
CurlKit
Natural Hair Product Sampling company selects the best products for you, teach you how to maintain, style & transition to natural hair successfully! CurlKit is a monthly subscription company exclusively for naturally curly and kinky hair textures that offers quality natural hair product samples, video tutorials, sample hair styling ideas and maintenance tips.
How does it work?
Each month, CurlKit sends out a selection of 6-9 samples that a team of online experts and researchers have personally sampled and approved.  In each kit, you will receive everything from pomades and conditioners to natural hair tools from well known and emerging brands such as :
Shea Moisture
Bee Mine
Blended Beauty
Pooka Pure & Simple
Jane Carter Solutions
Carol's Daughter
Kinky Curly
DevaCurl
Bear Fruit Hair
Taliah Waajid
Uncle Funky's Daughter
Giovanni
Oyin Handmade
Aubrey Organics
and more!
How Can I Get Started?
The monthly paid subscription service is about the same as any other, for $20.00 your CurlKit will include the following:
Hand Picked Products for your Specific Hair Type
Tips to Maintain Your Natural Hair
Help With Your Transition to Natural hair after "The Big Chop"
Tips, Tricks and Techniques to do Your Own Trendy Hair Styles
At-home Savings of Time & Money
Exclusive video tutorials, hair styles and routines 
And a Whole Lot More. You are free to cancel at anytime, no questions asked.