When my family gets together there are usually cocktails involved. We play games, enjoy holiday treats and have a cocktail or two. My Mom, Sister in Law and I tend to gravitate towards the sweet cocktails when together. I had received some Country Girl cocktails to try and brought them along for my family to enjoy over Christmas.
CountryGirl Cocktails all start with a spirits base and are infused with natural fruit flavors and aromas:
• Margarita: a traditional low-calorie margarita, CountryGirl starts with tequila and adds triple sec and agave nectar for a crisp and refreshing cocktail at 52 calories per serving.
• Peach Sweet Tea: a hint of southern hospitality, CountryGirl combines vodka with natural tea and peach flavor for a twist on a down-home favorite on a lighter level at 49 calories per serving.
• Lemonade: a blend of tart and sweet, CountryGirl adds vodka to natural citrus flavors for the perfect lemony treat without the guilt at 51 calories per serving.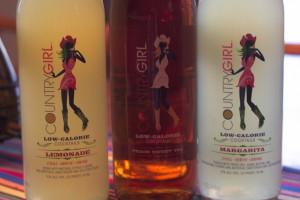 My favorite was the Lemonade. Sweet, refreshing and it made me think we are just a little bit closer to summer. This would be perfect to sit outside on the deck and enjoy. Instead we sat in the family room, with the fireplace going, playing Wii bowling. It was a pretty good way to spend time with the family.