Last weekend I had the biggest taste for making burritos – CHIPOTLE burritos! I went on line and of course there were a bunch of sites, but I ended up taking tips from a few different sites.
There were a lot of components to putting this together. I had to make the salsa, cook the rice (I used brown rice) and make the marinade for the chicken, cut up onions and poblano peppers, then after each person assembled them, we folded them up and I cooked it in my cast iron skillet for a few minutes – big tip – if you overfill the burrito – it will fall apart in the skillet!

This whole recipe will be in several posts, let's first of all talk about the salsa. I make home made salsa all the time -like this one or this one and I've also made my twin sister's famous baja fresh salsa.
But this salsa recipe was different from any one I've made before. The recipe comes from THIS SITE (Retro Dinner Diva).
Print Copycat Chipotle Salsa
very close to Chipotle's red salsa - so good! And it makes a lot too!
Ingredients
Tomatillo Red Sauce (hot) Ingredients:
3 tomatillos, husked
1 jalapeno, diced in 1-inch pieces
6 serrano peppers, stems removed (I used only 1 - didn't know how spicy it would be)
4 roma tomatoes
1/2 red onion, sliced
6 cloves garlic
1 can diced fire-roasted tomatoes
________
2 teaspoons lime juice
1 tablespoon kosher salt
1/2 teaspoon cayenne pepper
1/2 teaspoon sugar
1 teaspoon red pepper flakes
Instructions
Place tomatillos on baking sheet and broil for a few minutes until char spots appear.
Add tomatillos, jalapeno, roma tomatoes, serrano peppers, red onions, garlic cloves, and diced tomatoes to a large skillet and simmer over medium heat for 30 minutes to get the flavors to develop. (I used my cast iron skillet)
Then, add all of the skillet ingredients plus the lime juice, salt, cayenne, sugar, and red pepper flakes to a blender and puree. (Take the top off and place a towel over so it doesn't splatter all over you AND your kitchen! - that will let the steam escape
4. Refrigerate at least 24 hours.
Schema/Recipe SEO Data Markup by ZipList Recipe Plugin2.0
http://www.slim-shoppin.com/copycat-chipotle-salsa/
(I did not refrigerate 24 hours!) You can make and eat right away!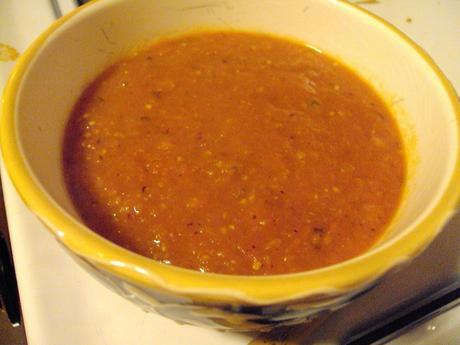 This whole dinner came out amazing – although it was a lot of prep work, It was well worth it!
***
So my twin sister and I are embarking on a project starting Monday that we are really excited to share with our readers, it's a weight loss challenge using an item that we think will help us reach our weight loss goals – so you'll have to come back next week and check out!
And I just want to share some sites I love right now!
Spabettie - she is on a wellness journey after her father got cancer, she's taking classes and really learning about what it takes to eat healthy – she's a great inspiration!
I just found this site the other day – this woman has lost 90 pounds and looks amazing. Her name is Amber – check out her blog here.
And I enjoy reading often Amie Valpone's site at the Healthy Apple – she makes gluten free "clean" foods, not processed that anyone can eat and enjoy.
I know super bowl is coming up Sunday – but I've been doing so great this month (down 8 pounds!) that I won't let a game deter me from my healthy eating plans! I think I'll head over to Gina's site SKINNY TASTE because she has a host of Super Bowl type snacks that are a healthier option.
So one thing that has helped me lose the weight so far this year…..drum roll please??????

Yep – and I didn't go crazy either going from zero to doing P90X or something. I walked home from work (1.75 miles) which was awesome on Tuesday because it was 60 degrees out – but not so awesome today when it was 10!

And because I'm tired of my videos that I own, I found a TON on You Tube – just search exercise videos and there is a ton of choices. I did a Taebo workout, a work out from Exercise TV and last night I did… ZUMBA! I'm sure if anyone was in my room they would have been laughing hysterically – but it was fun. So walking and 30-40 minutes at night plus using smaller plates, no seconds and adding more veggies and fruits – YEAH!!!
It's almost the weekend – what plans do you have? My daughter and I will be volunteering at her school's carnival – it should be fun!