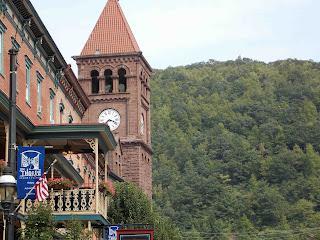 Early morning, the best time of day to ride the steep trails of verdant Jim Thorpe, Pennsylvania, splashes streams of sunlight on the rocky banks of the Lehigh River. One of the hottest and driest summers on record has taken its toll—the river narrows as it slices through downtown, whitewater rafting outfitters lounge lazily on their overturned kayaks, stark evidence of the drought. The hills above town, however, belie the scorching summer weather. Awash in lush emerald greenery, Jim Thorpe's Swiss-like slopes appear cool and inviting.
You first notice that Jim Thorpe is special when driving there on  Route 476. The rolling hills of the Pocono Mountains grow greener, taller, deeper, prouder as you approach the town. You don't need a brochure or website to tell you that Jim Thorpe is the crown jewel of the tiny Poconos. While the rest of the area might be best known for kitsch—heart-shaped beds, coal festivals, day excursions for the fictional employees of Dunder-Miflin, NBC's soon-to-be canceled sitcom set in nearby Scranton—Jim Thorpe was recently named one of the coolest town in America by
USA Today
.
For outdoor enthusiasts, Jim Thorpe rivals far better known destinations like Marin County, California, and Sand Point, Idaho. Truthfully, Pennsylvania is atrocious when it comes to environmental concerns—fracking was invented here, recycling is not merely optional, it's actually discouraged, the governor is a
republican
—but Jim Thorpe manages to rise above its state's reluctance to care for its greatest asset. Jim Thorpe tends to its natural beauty, highlighting it with impeccable parks, immaculate streets and sustainable businesses.
Rent a bike in downtown Jim Thorpe, across the street from the train station, and head up on one of the 20 trailheads that begin right in the center of town. Gorge Trail loops 19 miles past waterfalls and steep canyon walls, great for hiking and biking. Swimmers and boaters can drive a few miles from downtown to Mauch Chunk Lake Park, which is home to a wide variety of wildlife and features rental cottages and camping facilities. Jim Thorpe's annual triathlon draws elite athletes from around the world.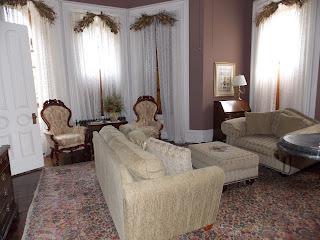 Harry Packer Bed & Breakfast

If you're not into sports, there's still plenty to do in Jim Thorpe. Stroll up the first hill you see in town and tour the former home of Asa Packer, who was one of the five wealthiest men in the world during coal mining's halcyon days. The mansion, now a museum, offers a glimpse into the lives of the 19th century's super rich. After the museum tour, head over to the Harry Packer Mansion next door and enjoy a glass of wine or a cocktail on the terrace as you gaze out over the town and its surrounding hills. Now a bed and breakfast that features murder mystery weekends, the Harry Packer Mansion was used as the model for the Haunted Mansion in Orlando's Disney World.
Jim Thorpe offers dozens of dining choices for all price ranges. I had a fantastic salad in Bear Appetite Cafe, just up the street from the Inn at Jim Thorpe. For the best room in town, choose the Harry Packer Mansion.
Formerly known as Mauch Chunk, Jim Thorpe was named for the athlete who competed collegiately in nearby Carlisle when Thorpe's widow sought a final resting place in a town that would honor her husband's legacy. I think Jim Thorpe would approve of the lovely town that bears his name.