Disclaimer: Affiliate links may be included on certain items in this post. 
"Let it Go" is always our theme for birthdays! I love the whole production from concept to thank you notes and my son has now gotten in the act with me. Last year was pretty hard to beat when two weeks after we returned from the most amazing trip to Disney World to hand deliver an invite, he returned to see us in Texas for a fun Mickey Mouse birthday experience where he joined in all the fun.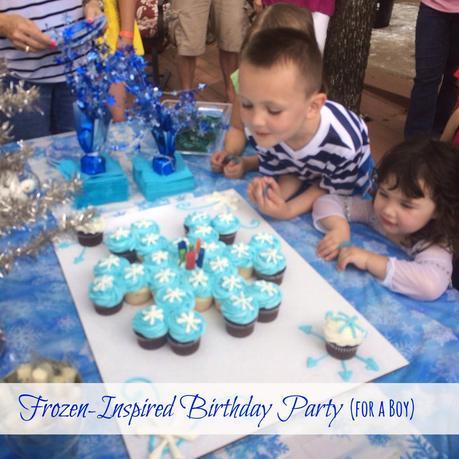 So when Jackson announced this year's challenge was Frozen-inspired boy party, I knew I had my work cut out for me. My first plan of action included having snow at the front lawn and an appearance by Sven for a little reindeer petting opportunity. Unfortunately the $850 for the snow delivery to the house and $200/hr for the reindeer wasn't in the budget. While a sad mama that I couldn't make the coolest party ever happen, I still had hopes that we could create a little bit of Arendelle without breaking the bank!
THE INVITE & THE THANK YOUS
While there so many cute Invites available for a Frozen birthday, I opted for using a Punchbowl.com free email invite that could also keep track of RSVPs.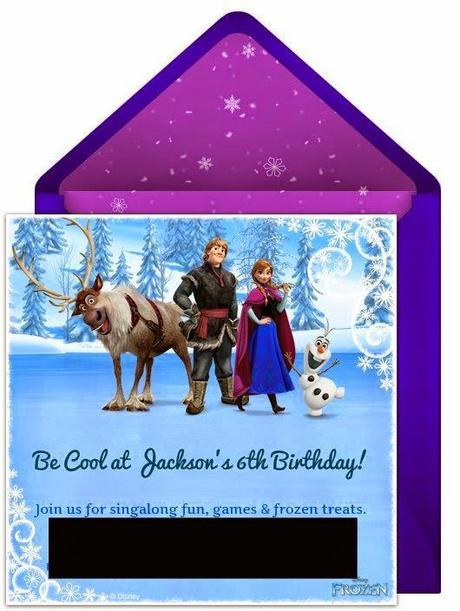 After the party, I quickly uploaded photos from my iPhone to Walgreens.com and within a few hours a cute Thank You with photos from the party and used the back to have Jackson write his name.
THE DECOR
Using some large appliance boxes, I freehanded a few snowflakes to hang on our fence to give it a little ambience. A very sweet set of friends cut them out for me and then we spray painted them white to hang on our fence with zip ties.
Cost of project:  $2 for six of snowflakes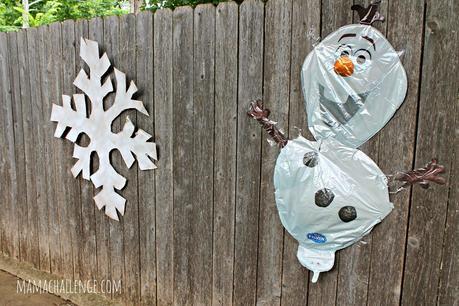 We also blew up tons of white balloons to float on the ground to give the kids the illusion of snow. Also with a piece of blue material I was able to make it look like a lake in the middle of the concrete.
At the entrance of the driveway we made white snowflakes, tapped them to dowel rods and placed them up to the entrance of "Arendelle." 
We also purchased 8 Count Snowflakes Dessert Plates, 7-Inch, tablecloths and napkins from Amazon.com as well as this cute Olaf the Snowman Balloon  (that I accidently overaired and popped so that's why he is on the wall!) Apparently you can't get this Olaf balloon hardly anywhere so I highly suggest ordering it early!  
THE FUN
For the feature part of our entertainment, we invited to Kona Ice to the party for a little snowcone fun for 30 minutes. The colorful van pulled up with a friendly driver and music, handed out shaved ice and then each of the kids could make their own flavor. The driver also let my kiddo jump in the truck to check things out and take a photo! It was super easy to book by just connecting on http://www.konaice.com.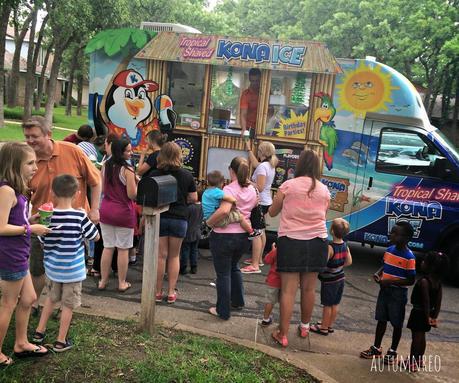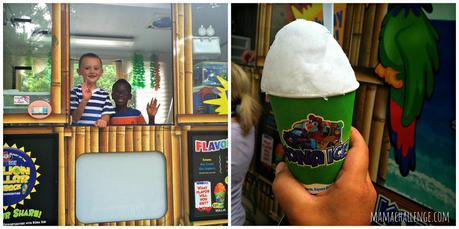 We also created stations for the kids to have fun before and after the snowcones.
Let it Snow:
Through lots of research, we found a great product called Insta-Snow 
that when added to water made eight gallons of snow. When the kids found out how much it felt like snow, they went crazy – including making snow angels. (The only warning I have to add is when too much water gets added, it gets very slick and mess, but they LOVED IT!)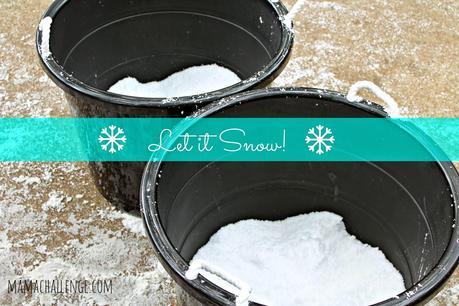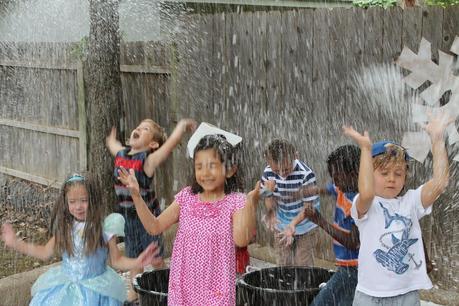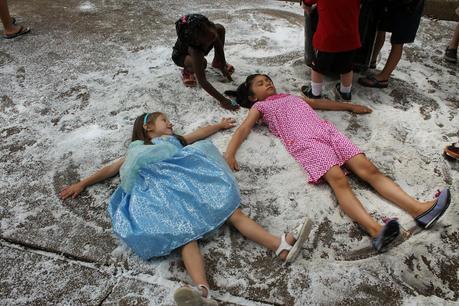 Do You Want to Build a Snowman? Activity Table:
Using the fantastic download from HappyMoneySaver.com, I was able to print out these wonderful labels and bundle up our own activity packages.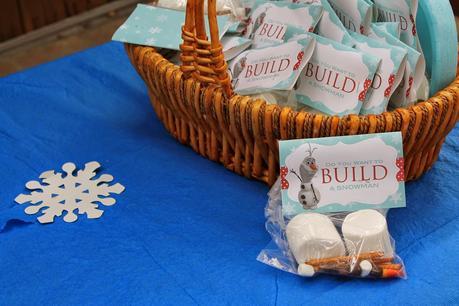 Find Your Ice Treasure:
Probably one of the easiest activities ever, I purchased these inexpensive Disney's Frozen Cupcake Rings and froze them in an ice tray. During the party we placed them in the bowl and the kids were able to pick one, melt it in their hands and then get a ring! (Of course, there was lots of trading, so it was lots of fun!)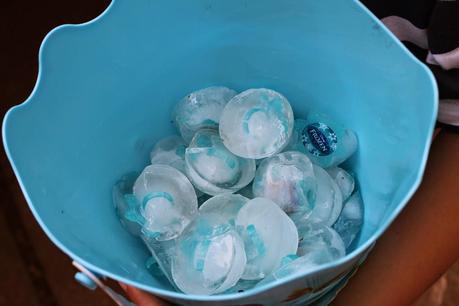 The Food
Cupcakes
To make things easier for distribution, I always like using cupcakes! Using an idea found on Pinterest, I asked my neighborhood Tom Thumb to recreate and they did!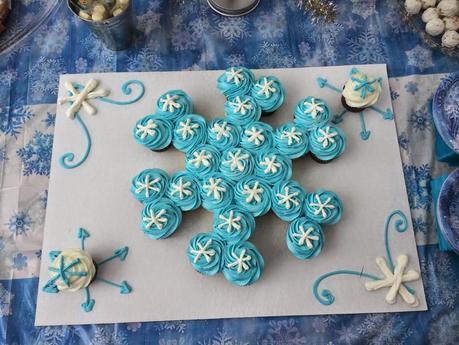 Other Snacks
For other fare at the party, I decided to go light since it was a morning event and we already had snowcones for the entertainment. We made "ice," used powered donut holes to make "snowballs," and these cute string cheese snowmen we also find on Pinterest at http://www.itsoverycheri.com.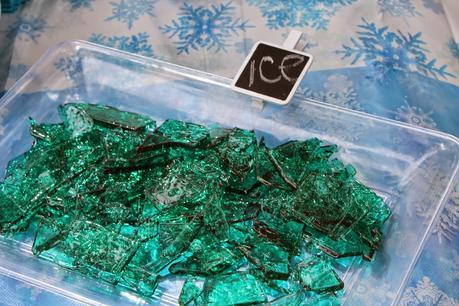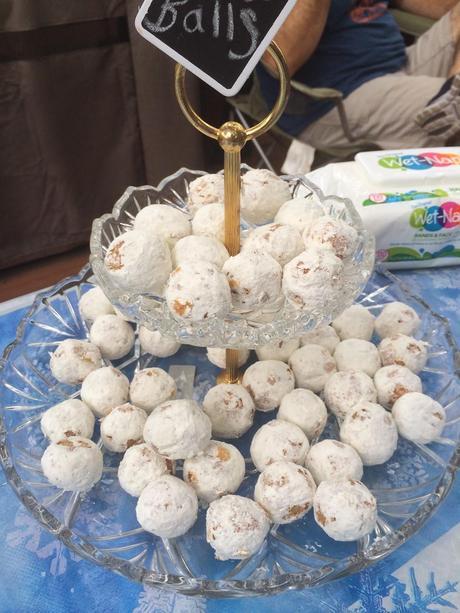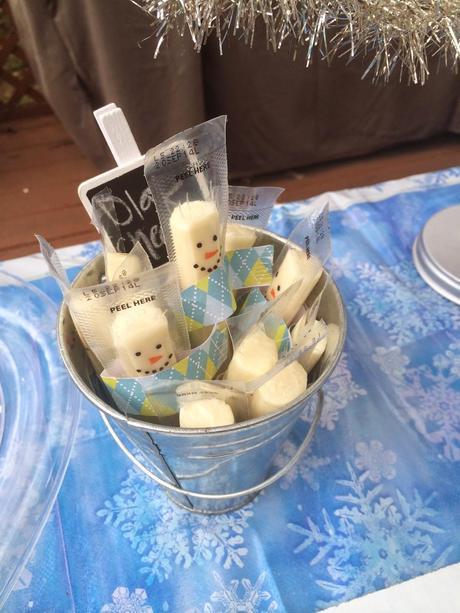 And for drink refreshments?
Cascade Ice for the adults & 
Bottled water or "melted snow" laced with a little bit of spray snow for effect.
And let's not forget the Wet Wipes that were used from marshmallows, cupcakes, snowcones and of course, the snow!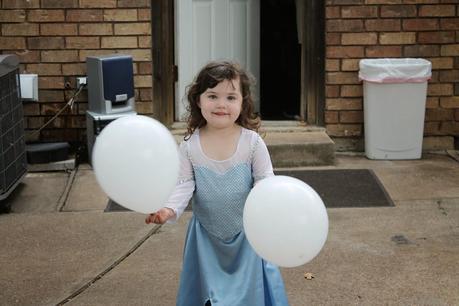 Guess who's birthday is next!