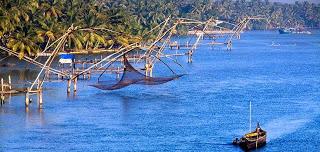 Hail by the name queen of the Arabian Sea that exactly defines its nature, Cochin is city
that is worth acclaiming as the queen of not only the Arabian Sea alone but also for the entire marine environment that surrounds the map of India.
 It is a city that boasts off for its great service render by its waterways and continues render services for the all kinds of people by giving route way to all the directions within and outside the state.
 Its harbor sea port give asses for both domestic and foreign travelers to enter and exit and its backwater route offer tourist and other a wonderful waterways to travel within the state and touch every nook and corner of the attraction lying within the state. Thus Cochin we can say is the veins of India.
Today with the availability of excellent electricity harvested from the vast and huge water bodies, fresh water, long coastline beaches and free space area, backwaters, good banking facilities, presence of major port with container trans-shipment terminal, harbor terminals along with the world class international airport terminals and accommodation five star, deluxe and luxury hotels and inns and all other facilities offers and services cochin is in fact one of the most sought after, crowded fastest growing second-tier metro cities in India.
 It is the commercial capital city of the state and the top major business sector of the southern part of the country. 
One of the main reasons for its sudden development and progress of this city is mainly because of its easy access and exit that is made possible by its water ways served by the sea route and backwater routes.
 Foreign travelers and tourist enjoy easy and comfortable access from either water way by ship or by plane as it offer international shipping and airport facilities. Again not only these to access through different area, districts, towns and cities one can easy by land route or take up journey that adds fun and enjoyment with backwater cruise. 
The backwater of cochin also offer tourist numerous sightseeing attractions that includes a visit to Chinese fishing net to enjoy fishing and other excitement, tours to some of the old British and other foreigner's colony area to eye witness the old fashion British, Portuguese and Dutch Bungalows, recreational move away break during tours in some beautiful nature adored places and wildlife reserved zoos and botanical gardens etc.
 Most of the tourist and other travelers take Cochin to be a stopover destination a break stay site for entry and exits however it's not only a destination for such purpose only it is also a perfect site to enjoy backwater tours and a day or two outing riding on houseboat is also a wonderful experience you can learnt lots and discover many new things while sailing and touring around about its nature, culture and historical romance. 
So if you get a chance to experience Cochin backwater do not miss out your chance you can learnt lots and treasure incredible memories of fun and knowledge.