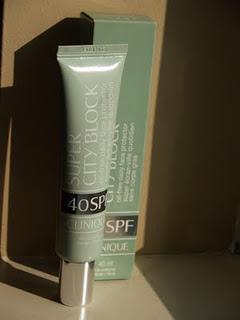 Now that summer is finally here, it's time to start thinking about how those rays affect our most vulnerable body part - our skin! These days we all know how damaging the sun can be to our skin. So finding makeup with sufficient SPF is important - particularly to those of us who are on the pale side. Unfortunately a lot of SPF products often smell funny, need frequent re-application and feel like an oil slick. 
Enter Clinique Super City Block. I found this last summer after trying a bushel of SPF products that had any or all of the downfalls mentioned above. Having pale skin to begin with and a condition that means I'm losing what little pigment I had in places, sun protection is extra important for me all year round - but doubly so in warm summer months. I finally decided to give this one a try on the recommendation of one of the Sephora salespeople at my local mecca. I figured, for $20, why not?
The upshot? While it definitely doesn't last all day (I've put it on in the morning and gotten a light burn in the afternoon), it is much more pleasant than many of the others I've tried. It smells similar to oatmeal cleansers I've used in the past - no obnoxious chemical or fake coconut scents - and has a bit of a tint to it (think tinted moisturizer) that means I can wear it alone on low maintenance days. 
Best of all, it doesn't make my skin feel gross as the day wears on. I have a suspicion this means it's probably absorbing into my skin really quickly and thus becoming ineffective after a couple of hours, so if you're going outdoors for some serious sun time, you will need to re-apply - and generously - or go for a physical sun block. But, as the name suggests, for light wear when you're commuting to work or shopping on the weekend, this does the trick. My bathroom hasn't been without it since!


Ratings:




Packaging:

5/5


Product quality:

5/5


Worth the price?

Definitely!


Would I purchase again?

I have, and I definitely will again!
Cruelty-Free? Yes - and appears on PETA's Cruelty-Free list.
Where to find it: Sephora and Clinique counters.