This morning, I caught the bub squishing one of my favorite lip products. I know I'm always starting my posts off with how the baby did this and that... but... what better way to start off than a piece of fact-of-the-day? :)
Well, you know how I've been 'unable' to write? I was hence more than happy to take that as a sign that it's about time I wrote about my favorite lip product - the Clinique Chubby Stick!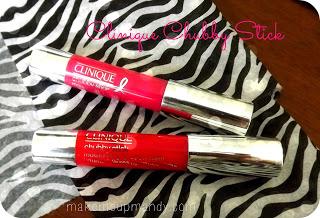 I actually have 3 shades (1 missing-in-action). In all honesty, I'm not the biggest lip product lover you will meet. I use them, I like them but I'm not that passionate about them (for now anyway). I will not regale you with funny childhood stories of how my mom used to lipstick on me for school performances and I couldn't speak properly because I felt like there was something on my lips.
So the point is, if I actually buy a few shades of the same product - I really like it!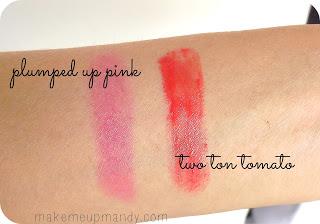 Plumped Up Pink was a Breast Cancer Awareness special edition that I bought from an overseas trip. I don't think it's available anymore.


The Clinique Chubby Stick, I'm sure, needs no further introduction as it's already such a popular and established product. It is so nourishing for my lips and for me, is the perfect middle between a lip balm and a lip stick (Clinique calls it "lip color balm")
I'm not a bold matte red lip stick person and so, am always looking for something a little gentler and more natural. Yet I also do not appreciate how tinted lip balms don't last very long on me at all.
My Clinique Chubby Stick gives me just the perfect combination of moisture, color with a hint of a glossy shine. I love it.
I guess the thing I love most about it is its convenient pen design. I have heard many say this and I think it's true: you can literally apply with eyes shut. It's actually easy and has a nice pointed tip (except when you have a baby who's squished the top bit; see picture below.)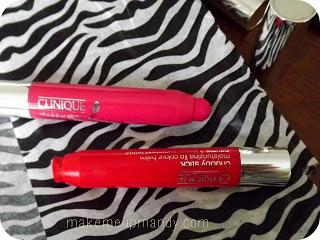 The Clinique Chubby Stick is definitely one of my most reached for lip products and works really well for what I need - just a subtle yet lasting sheen plus good moisturising for my lips.
Have you tried Clinique Chubby Stick? Are you a fan?