Cilantro brings a beautiful and vibrant flavor to a dish, it is even better in a pesto. Of course traditional pesto is delicious but sometimes basil is +$3 for a small bunch at the grocery store. Cilantro is only $0.99 cents. A big savings!
Thanks to Everyday Food for the inspiration, I was able to create a great spin on pesto that has some unique ingredients. Soy sauce, red pepper flakes, peanuts, cilantro and ginger. I usually have all of them on hand and can easily stop to get fresh cilantro if I need it.
The lemon pepper pappardelle from Trader Joe's makes this dish, more flavorful that traditional pasta and great as leftovers.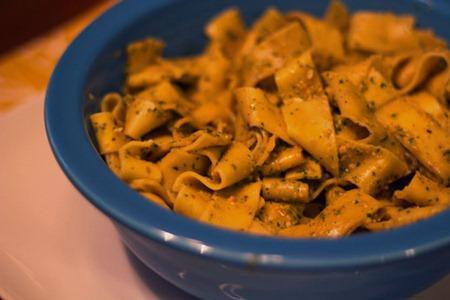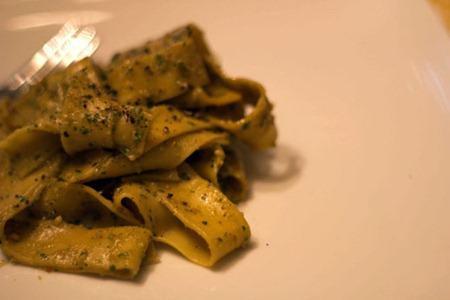 Cilantro Pesto with Lemon Pepper Pasta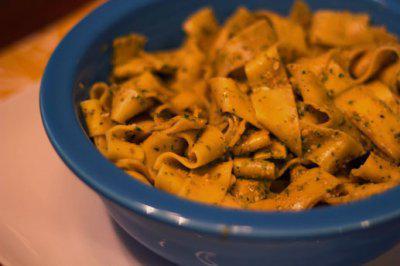 Prep Time: 10 Minutes
Cook Time: 10 Minutes
Keywords: vegetarian pasta
6026850
Ingredients (Serves 4)
1 bunch cilantro
2 cloves garlic, peeled and smashed
1 inch piece of ginger, peeled and cut into a few pieces
2 tbsp olive oil
1 tbsp toasted sesame oil
1 teaspoon red pepper flakes
Zest and Juice of 1 lime
1 tsp brown sugar
1/2 cup peanuts
2 tbsp soy sauce
1 bag lemon pepper papparadelle
Salt/Pepper
Instructions
Cook pasta according to directions and set aside, reserving a few tbsp of the cooking liquid
In a food processor combine all the ingredients except the pasta. Process until combined and pour over pasta.
Top with salt and pepper. Serve hot or cold.
Powered by
Recipage