Tired of baked goods yet? Since I only bake a few times a year I did go all out for my Christmas cookie bake-a-thon. My favorite this year? 7 layer bars. Rich, gooey, coconut filled goodness.
Healthy? Not a chance. But very addicting!
Off all the baked goods I made these were the easiest. Lots of ingredients but they came together quickly and the foil lined pan made for really easy cleanup.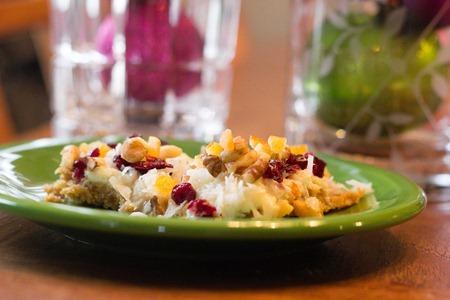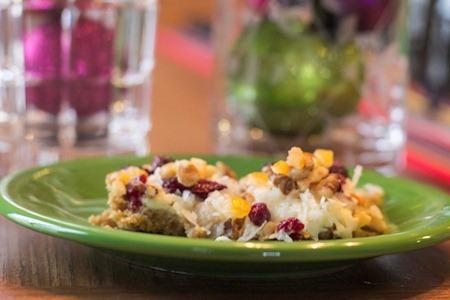 7 Layer Bars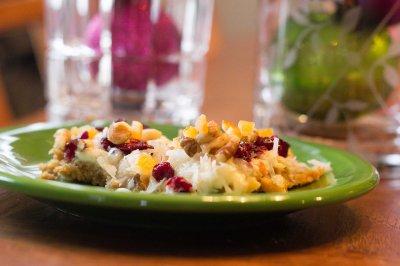 Prep Time: 15 Minutes
Cook Time: 12 Minutes
Keywords: dessert
6037829
Ingredients (24 Bars)
1 1/2 cups graham cracker crumbs
1/2 cup butter, melted
Zest of 1 orange
1 14 ounce can sweetened condensed milk
2 cups white chocolate chips
1 cup flaked coconut
1 cup cherry flavored cranberries
1 cup chopped walnuts
1/2 cup diced candied orange peel
Instructions
Preheat oven to 350 degrees F.
Line a 13x9x2 pan with foil, spray with cooking spray.
In a large bowl stir together the graham crackers crumbs, melted butter, and the orange peel. Press crumb mixture firmly into the bottom of the prepared pan.
Pour the sweetened condensed milk evenly over the crust.
Sprinkle the white chocolate chips, coconut, cranberries, walnuts, and candied orange peel over the condensed milk.
Bake for 25 to 30 minutes or until edges are light brown.
Use a sharp knife to loosen the edges of the bars from the pan. Lift out the foil and place on a cutting board. Cut bars.
Powered by
Recipage