I have a thing for chips. Make that any salty snack. That is my go to, I will pass on chocolate or other desserts but give me chips and I am a happy happy girl. If that is chips and dip I am even happier. Green Giant recently came out with veggie snack chips.They are a teeny tiny bit healthier for you. Green Giant™ Roasted Veggie Tortilla Chip – Garden Ranch and Green Giant Multigrain Sweet Potato Chip – Barbecue. The Garden Ranch with French Onion dip. Oh my.
Reminds me of much worse foods for me that shall rename nameless. The ingredient list on these is much better than those nameless ones and they are really good. Since I am a firm believer in the 80/20 rule, 80% of your meals and snacks should be healthy foods and 20% should be in the form of treats. I choose things like this as my treat.
Want to make the chip and dip even better? Use these with a tablespoon of chip seasoning (from a place like Penzey's or an organic mix) with Greek yogurt or light sour cream. You can pronounce everything on the list and you still get that same great flavor.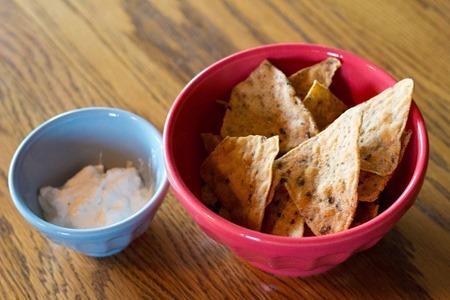 Hard to stop at one serving. But then that 80/20 rule pops in my head and I remind myself everything in moderation. And I take that very seriously. I enjoy that 20%.
I was selected for this opportunity as a member of Clever Girls Collective and the content and opinions expressed here are all my own.