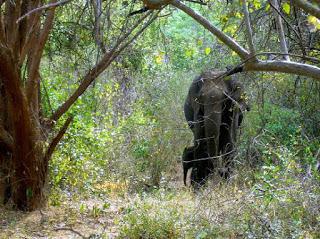 The Chinnar wildlife sanctuary is located in the Idukki district of Kerala. This wild life
sanctuary is a smaller one than the other ones such as Periyar and Idukki sanctuaries but has gained importance due to the sandalwood trees growing in its forests. 
The wildlife sanctuary of Chinnar is located on the State Highway 17, 18 kilometres north of Marayoor. The area encompasses the areas in between the Marayoor and Kanthaloor panchayats of the Devikalum Taluk in the Idukki district covering an area of 90 sq. kms. This sanctuary and its forest unlike others is comprised mainly of dry, thorny scrub like forest instead of the tropical deciduous forests.
 This is due to the sanctuary being located in the rain shadow area of the Western Ghats resulting in scanty rainfall as by Cinem Plus 2.4cV30.05"> by Cinem Plus 2.4cV30.05"> by Cinem Plus 2.4cV30.05"> compared

to the other parts of Kerala which receive heavy rainfall.
Flora and Fauna
The flora of this sanctuary is a bit thorny and dry like scrubs of the xerophytes species. There are dry deciduous forests, grasslands and high shoals too, which diversify the flora of the region. The dry flora of the region makes this place an ideal habitat for the endangered and rare giant grizzled squirrels of India. 
There are only about 200 of these squirrels remaining at present in this sanctuary. Other than these endangered species one can find sambar, spotted deer, langur, elephants, peacocks and gaur. 
Other than the flora which is found extensively, there is also a sandalwood forest that is an attraction here. These sandalwood trees are famous for their aroma and are very expensive making them a victim of illegal deforestation. 
Activities (In and Around)
Trekking- this is one of the most interesting activities that you can indulge in when here. The dry scrub like vegetation along with a mix of grasslands and deciduous trees makes a great environment for taking long walks.
 It also allows you with long distance vision which is not obscured by the dense trees you find in other forests. This is also a great way of watching wildlife from a safe distance. Safari- one can take a safari or just drive along the SH 17 and spot various species of fauna such as gaur, sambar deer, spotted deer, langur and peacocks.
 The main attraction here however is the great grizzled Indian squirrel which is an endangered species. Thoovanam Waterfalls- this waterfall is located deep in the sanctuary and is a grand sight to see. 
This waterfall is created by the river Pambar which flows eastward through the sanctuary to finally tumble down a great height into the Chinnar river. Watch Tower- this is one of the main attractions in the sanctuary which is manmade. This watch tower provides a panoramic view of the entire park and the adjoining areas of Tamil Nadu along with the Western Ghats.
Accommodations and Restaurants
There aren't any by Cinem Plus 2.4cV30.05"> by Cinem Plus 2.4cV30.05"> by Cinem Plus 2.4cV30.05"> hotels in the

sanctuary premises but a few are available at a short distance drive from it. Some of the best known ones are Chandana Resort (5.6kms away), Hotel Chandana Annexe (5.6 kms away), Eco Escape (16.5 kms away) and Quality Inn Sabari resorts (23 kms away). To dine and eat you could go to the Periyar restaurant which is about 6 kms away or take packed food when visiting the sanctuary.
Best time to visit:
One can visit this wildlife sanctuary all the year round except between October to November. Winter is considered to be the best time to visit as the weather condition is mind and pleasant making it easier and comfortable for wildlife watching and trekking. November to April is considered to be the best time to visit Chinnar Wildlife Sanctuary.