For the first time in weeks I got to spend a few uninterrupted hours in the kitchen. It was wonderful! I made chicken with beans, pulled pork and prepped some veggies and cleaned up the kitchen. That time when I get to just be in the kitchen is so relaxing to me. Prepping for the week with fresh, healthy food just makes me happy. Especially my body.
When I prep I eat healthy! Having ready to go foods in the fridge is key. And even though I am traveling some this week (it's local but I am gone a night) I know this is ready to eat when I get home Tuesday.  After my prep time, errand running and a workout yesterday I had a bowl of this chicken with white beans for lunch and it was delicious.
This is one of those dishes that you make on a weekend. It takes prep time and cooking time but it;s so worth it. You can eat it as a stew or over rice and soak up all that delicious sauce. And dried beans really do make this dish. I know they are so time consuming to prep but the taste so much better. Thanks to an old Rachael Ray Magazine for the inspiration.
Keep adding heat until this is spicy enough for you and serve over rice, spaghetti squash or eat it as stew. I had it over about a 1/4 cup of brown rice just to soak up some of the amazing broth. This makes A LOT and you can freeze some or enjoy leftovers through the week in various ways like we did!
Chicken with White Beans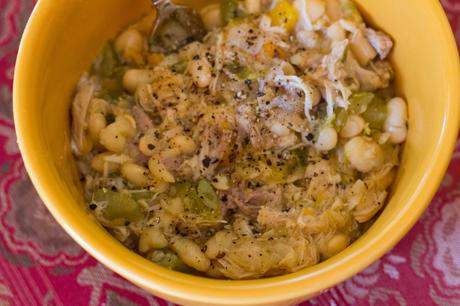 Print
Prep time 2 hours 30 mins Cook time 2 hours 10 mins Total time 4 hours 40 mins   Author:
A Fit and Spicy Life
Serves:
4
Ingredients
1 lb.dry great northern beans
1 Tbsp coconut oil
2 cloves garlic, minced
1 onion, chopped
4 stalks celery
3 bell peppers (I used green, yellow and orange)
6 chicken thighs (bone in,skin removed)
2 Tbsp spicy seasoning blend (I used Forward fromPenzeys)
1 tsp Greek seasoning
⅛ tsp hot seasoning (such as Slap Ya Mama)
½ Tbsp smoked paprika
Salt/Pepper
6 cups water
Instructions
Place the beans in a large pot, cover with water, and bring to a boil over high heat. Boil for one minute, turn the heat off and let the beans sit, covered, for one hour.
Drain the beans and set aside
Add coconut oil, garlic, and onion to a large pot and sauté over medium heat 3 to 5 minutes.
Add the celery and bell peppers and sauté a few minutes more, or just until they begin to soften.
Place the chicken thighs on top of the vegetables.
Add the soaked beans, seasoning blend, oregano, smoked paprika, salt/pepper, and six cups of water. Stir gently.
Cover the pot and bring it to a boil over high heat. Once it reaches a full boil, turn the heat down to low and let it simmer for two hours.
Remove the chicken thighs and use two forks to shred the meat and remove the bones.
Mash a few of the beans to help thicken the sauce and return the shredded chicken to the pot. Season to taste with salt/pepper.
Serve or rice, spaghetti squash or as a stew.
3.2.2925