We are up to our ears in magazines, I haven't been home much in the last month and literally had about 15 magazines to read. I was paging through the September issue of Cooking Light and saw a recipe for chicken with honey beer sauce. I was intrigued! I had everything on hand except for flat leaf parsley. Making for an easy grocery list addition.
The beer of choice? A Point Black Ale, it's a Wisconsin brewery that has had a turnaround and is all of a sudden cool again. Good job marketing people! But if you show the label to someone my parents age they may turn up the nose and claim that's what they drank in high school. Dad, you might want to give it another try. It is pretty good. Especially the Black Ale, rich but not overly thick with hints of caramel, hard candies and maple. (Side note but their Oktoberfest is fantastic!)
Enjoy the rest of the beer while you make dinner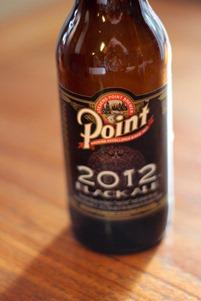 Chicken with Honey Dark Beer Sauce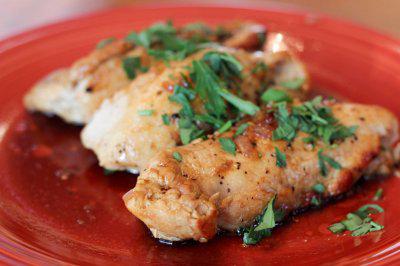 Prep Time: 10 Minutes
Cook Time: 20 Minutes
Keywords: entree chicken
6032728
Ingredients (Serves 4)
Canola Oil
1 lb boneless skinless chicken breasts
Salt/Pepper
1 shallot, finely diced
1/2 bottle of dark beer, such as Point Black Ale or Guinness
2 tbsp soy sauce
1 tbsp honey dijon mustard
2 tbsp honey
Flat leaf parsley for garnish
Instructions
Heat the canola oil in a large skillet over medium heat.
While the oil is heating in a small bowl whisk together beer, soy sauce, mustard and honey.
Add chicken, season with salt and pepper and cook 3-5 minutes on each side, or until cooked through. Remove from the pan and set aside on a plate.
Add shallot and cook for 1 minute.
Pour mixture into the pan and cook until it has reduced by half. About 4 minutes.
Return chicken to pan and cook for 1-2 minutes, turning over a few times to coat in the sauce.
Top with reduced sauce and flat leaf parsley.
Powered by
Recipage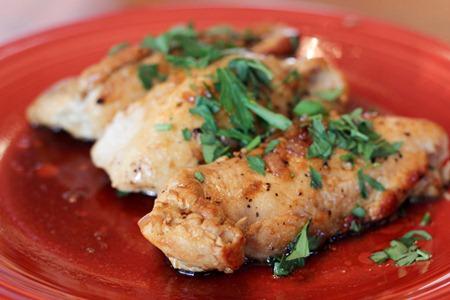 Served with a side of roasted tomatoes from my in-laws garden that we picked on Sunday. They were so incredibly sweet. I think I could eat an entire pan of roasted tomatoes with a bit of olive oil and salt.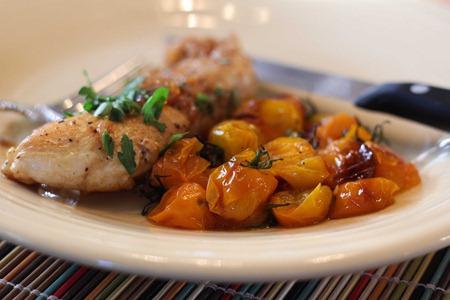 I think we did pretty good for our first home cooked meal after spending 2 weeks on our honeymoon and having me travel the week before we left. It has been a month since we've really cooked! I missed it. It's a good thing that I have 4 more great recipes to make the next week and a half (minus a short 2  day work trip next week).