Chicken Salad Sandwich with Lemon-Herb Dressing
Nothing is more healthy than a chicken salad sandwich, and I can`t think of anyone that does not enjoy this recipe of chicken salad sandwich especially when you top it up with lemon herb dressing. This herb dressing just gives it that extra touch. If you are thinking or feeling lazy but hungry and want a healthy lunch meal than this chicken salad sandwich is a perfect option for you. Give it a try and trust me you will not be disappointed. After all it is home-made and you exactly know the ingredients that went in your chicken salad sandwich. Please do share with us your thought after giving this recipe a try.
Ingredients
1/4 cup mayonnaise
1/4 cup plain yogurt
1 tablespoon chopped fresh dill
1/2 teaspoon grated lemon zest
2 teaspoons lemon juice
1/4 teaspoon salt, or to taste
2 cooked whole boneless, skinless chicken
breasts, cut into 1/4-inch dice
4 lettuce leaves, optional
8 slices multi-grain bread
Directions
Combine mayonnaise, yogurt, dill, lemon zest, lemon juice and salt in a medium-size bowl.
Add chicken pieces.
Toss with dressing.
Place lettuce leaves on four slices of bread.
Divide chicken salad among four slices.
Top with remaining bread; cut each sandwich into four pieces.
Makes 16 sandwiches.
Enjoy!
Liked this recipe than you`ll enjoy making these recipes as well.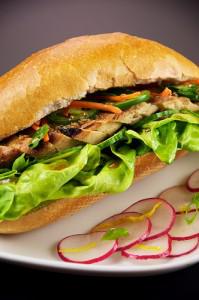 Photo by: TheCulinaryGeek