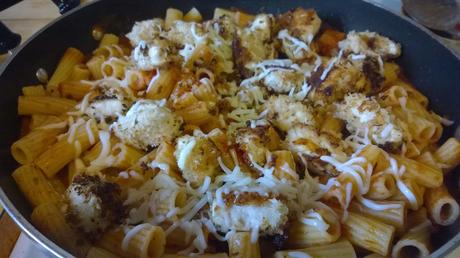 This meal came together in less than 30 minutes! It's a little twist on pasta which I make once a week – you have to mix it up once in a while to keep it different!
I had 1 giant chicken breast which I cut into bite sized pieces. In a large zip loc bag, I placed panko bread crumbs inside, with oregano, Parmesan cheese, salt and pepper. Shake well to coat the chicken.
In a large skillet, add a few tablespoons of olive oil and brown the chicken on medium heat until browned and cooked through. Remove from skillet once the chicken is done.
Meanwhile, cook whatever shaped pasta you want and drain.
In the same skillet you cooked the chicken in, add a little more olive oil, chopped onion, chopped garlic. Cook the onion and garlic for a few minutes, then add one 28 oz. can of crushed tomatoes, sprinkle in dried Italian seasoning, dried basil, salt and pepper, a pinch of salt, a pinch of sugar and a pinch of crushed red pepper flakes. Simmer the sauce for about 10 minutes so it starts to thicken.
Then add the cooked pasta to the sauce, place the cooked chicken Parmesan bites on top and sprinkle with mozzarella cheese. Super easy and my whole family devoured it. It's a keeper for sure!
What's your favorite topping for pasta? Leave a comment below