Chicken Honey Nut Stir Fry Recipe
This recipe has been tried a few times by me. I am not saying it quite hard to make this but if you don`t have the right ingredient and you are trying to improvise  your dish, than it usually turns out to be a disaster. But finally when I got the perfect ingredient and I made this recipe, It was great. I like having spicy stuff, so for my own personal taste I added quite a bit or red powered chili and when that got mixed with the honey, I cant put it in the right context but it was great. All you guys need to try out this chicken nut stir fry recipe, it is quite healthy as well. So if you are keeping your health and fitness as top priority than this is perfect for your healthy lunch  or healthy dinner meal.
A simple yet elegant chicken dish, stir fried with carrots, celery and an orange honey sauce. This recipe is from The WEBB Cooks, articles and recipes by Robyn Webb, courtesy of the American Diabetes Association. Preparation time: 20 minutes Prep Time: approx. 10 Minutes. Cook Time: approx. 10 Minutes. Ready in: approx. 20 Minutes. Makes 6 servings.
Ingredients:
2 teaspoons peanut oil
2 stalks celery, chopped
2 carrots, peeled and diagonally sliced
1 1/2 pounds skinless, boneless chicken breast halves – cut into strips
1 tablespoon cornstarch
3/4 cup orange juice
3 tablespoons light soy sauce
1 tablespoon honey
1 teaspoon minced fresh ginger root
1/4 cup cashews
1/4 cup minced green onions
Directions
Heat 1 teaspoon of the oil in a wok over high heat.
Add the carrots and celery and stir fry for 3 minutes.
Add remaining 1 teaspoon oil, then add the chicken and stir fry for 5 more minutes.
In a small bowl, dissolve the cornstarch into the orange juice.
Mix in the soy sauce, honey and ginger.
Add this sauce to the wok and cook over medium heat until thickened.
Top with the cashews and green onions.
Enjoy!
Liked this recipe than you`ll enjoy making these recipes as well.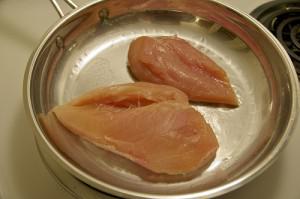 Photo by scottfeldstein

Rating: 0.0/
5
(0 votes cast)