Chicken Chow Mein Casserole
I am not sure about you but chow mein in general are very tasty and this chicken chow mein casserole is just the perfect dish to satisfy your palates. This recipe has tons of healthy ingredients which make this a perfect dish for any meal especially if you are substituting it for your healthy lunch meal. Chicken chow mein casserole not only taste great but is a simple dish to make. This is the only thing I like about Chinese food, though there are tons of ingredient but you can toss them pretty much all together and make a lovely dish, chicken chow mein casserole is just another example of what I am trying to say. Try it and leave a comment to share your thought with us.
Ingredients
2 Garlic cloves; minced
8 oz Fresh mushrooms; sliced
1 sm Red bell pepper; sliced
1/2 c Slivered almonds
1 can Water chestnuts; diced
1 can Cream of mushroom soup
3 c Chicken, cooked and cubed
2 tsp Soy sauce
1/4 tsp Pepper
3 Green onions; chopped
3/4 c Mayonnaise
1 can Chow mein noodles
Directions
In large skillet, sauté garlic, mushrooms and red pepper in 1-2 tbsp butter until soft.
Add remaining ingredients except chow mein noodles.
Heat mixture thoroughly.
Place into a 11×7 or 9×13 pan.
Now, top with the chow mein noodles.
Bake at 350 degrees for about 30 minutes or until bubbling.
Enjoy!
Liked this recipe than you`ll enjoy making these recipes as well.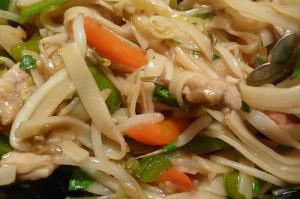 Photo by: Rex Roof