Winter season weddings are dazzling giving a warm nice thrilling touch bringing out the intended enthusiasm in the season. White inspired weddings work best in the winter season since white tone is never out of way. To make your white winter wedding outstanding, you've got to be artful and try to incorporate chic silver into your white winter table decor. They go perfectly well in all seasons but work best for a winter wedding. Silver details are classic especially when accented with vintage and modern intonation in the right balance. Winter table setting décor need to be appealing to your guests and at the same time be seen to give them a relaxed feeling since the reception is always the center of attraction.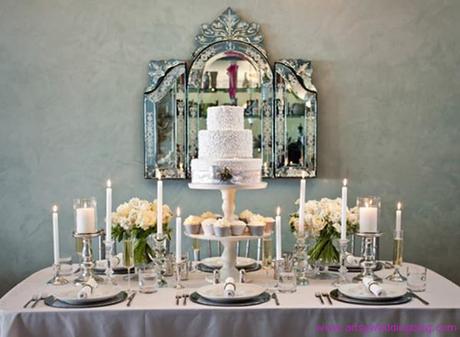 Table setting decorations are the first elements that you will have to consider ensuring they stand out in your reception. This is indeed a good way to achieve the wedding of your dream. For your winter table covers, you can have fabulous glimmering chiffon fabrics, accented with classy silver jewels for a magical touch! You can have pure white color palette for your table setting decor. For a classic winter wedding, be keen to use frosty white table cloths and a pretty white satin overlay to add gleam to it. You can choose to add Jordon almonds smartly packed in silky white boxes in each place setting. For a gorgeous modern winter wedding, you can place silvery table linens giving a fine tone.

Make your guests feel at ease by seating them on white wood plush chairs or metallic chiavri chairs fitted in tremendous velvet cushions being careful to match them with your color palette. For a more elegant classic winter wedding, you can artfully mix and match patterns for your place settings such as white china lipped in platinum mixed with platinum software in dashing silver chairs. If you choose to have a modern winter wedding, you can have silver slipcovers for a really gorgeous place setting.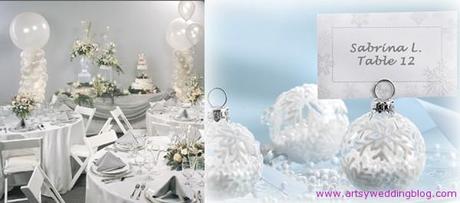 Use classy blooms to create a stunning reception to draw attention of your guests. Flowers such as deep red, calla, lilies, roses, hydrangea or even dripping amaranth are some of the best choices. For a beautiful setting, you can pair flowers of the same type making a bouquet to place around candelabras. For a classic winter wedding, make an array of attractive white flowers found during winter season for your centerpieces. Such flowers include orchids, tulips, cosmos and amaryllis which you can place in tall glass vases at least two or three per table for a picturesque look. You can also place white centerpieces with orchids in smooth white vases to add charm to your setting.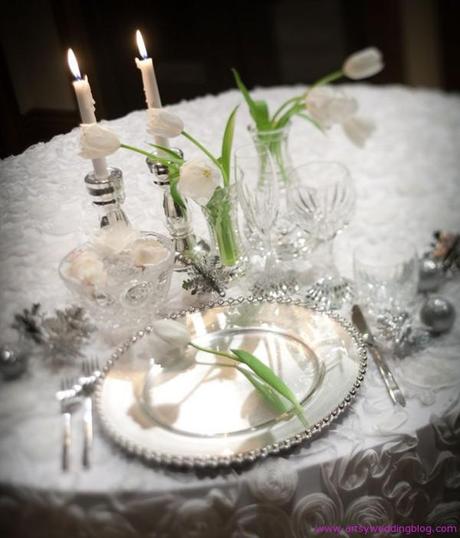 Induce a romantic winter fairy tale by lighting up your reception. There should be several shimmering candles in ornate copper candle holders or some magnificent silver decorated china. You can also consider silver plated chargers and majestic tall candelabras for the centerpieces. Go modern by placing string baubles around the candelabras to glisten the reception. Blue light and silver plated chargers would also add charm to your reception.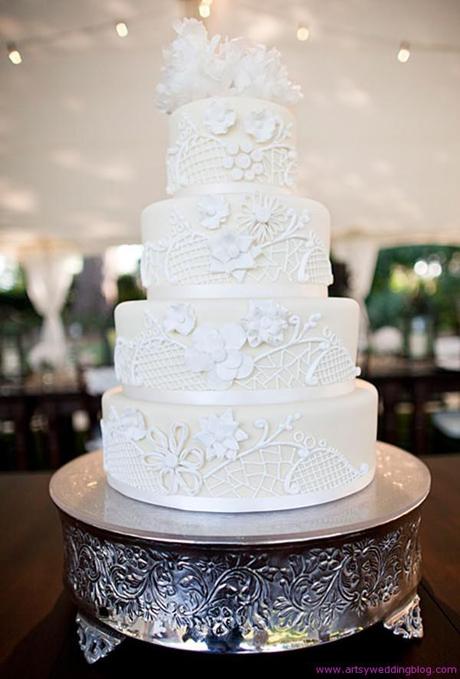 Nothing is as sumptuous and yummy as a decorated white winter cake. Go for a cake that is wintry with butter-cream icing. Pine cones and snowflakes are popular in winter weddings hence make yours unique by having a white wedding cake with slight sugar snowflakes. Moderate your cake colors to have a tasty and a romantic cake.