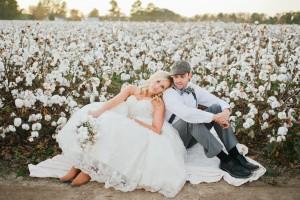 Everyone wants just a little bit of that Southern charm. People love a good ole' fashioned Southern wedding in Alabama or in Georgia. One of the longest wedding trends is making a massive comeback in 2015. What is it? Why folks, it's called Southern chic.When people typically think of the south, they automatically think big dresses and large personalities. Shows such as Say Yes to the Dress have shown viewers a side of what life down south is like. But some days, the bigger isn't always the better. The southern belle has evolved over the years and with that comes style, and a whole lot of it. It's all about fresh romance, with a hint of glamour, and natural rustic accents that all tie together in a pretty little package. Think of beautiful outdoor gardens and fields, with flowers in bloom, bold colors that are gently balanced with the muted tones of pastels. Color scheme is everything with Southern chic style. The new color scheme that ties into it is filled with muted pinks, such as blush, greens, like mint and teal, and tans with a little bit of cream. These colors tie into most venues and will leave your guests breathless.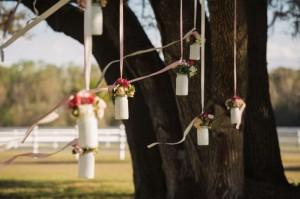 Class is everything in the south and it's seen in weddings throughout every detail. For the ceremony space, imagine a beautiful outdoor ceremony area, such as a garden, yard of a big historic white mansion, an old barn in a vacant field, or a space next to the Atlantic Ocean. White chairs with delicate flowers line the isle where the bride and groom will walk down and finally say "I do." The alter space has a beautiful arbor with natural accents and flowers draping down the sides. A large willow tree stands tall behind the soon to be married couple and white 1950's vases hang from the trees and float in the wind. As for the reception, picture farm tables accompanied by solid wood mismatched vintage chairs, eucalyptus garlands flowing throughout the reclaimed wood table, vintage china, and jars filled with lavender and peonies. A special sweetheart's table is set aside for the bride and groom, complete with classic chairs, in the color scheme of course, a lace tablecloth, and a beautiful centerpiece. Decor is simple, but elegant and glamorous. It's done in a tactful manor that exhibits pure beauty, grace, and even though there are many pieces to the set up it is simple.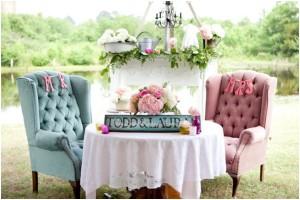 Now, the best part about a Southern style wedding is the attire. Oh, the attire! Grooms and groomsmen wear dapper seersucker suits. Seersucker suits have been a staple to the south for years. They are a light linen that have the small and fresh stripes vertically down the suit. Another option, if you're not bold enough for the seersucker suit is to stand handsome in tan vests, suspenders, and bow ties- yes bow ties! Suits and seersucker details, may seem generic and bland, but it's all about the accessories. Add a fun striped or checkered bow tie to complete the look. This is a great way to add in the color scheme for the wedding or have each of the groomsmen buy their own bow tie to showcase their personal style. Pick out a pair of funky, but classic, suspenders. Suspenders add a vintage look right off the back. They are flattering, and allow the groomsmen to ditch the warm suit coat and make a fresh statement with a crisp clean button up shirt. After all, it does get pretty hot and humid in the south, why not go for comfort! For groomsmen attire, make it Southern, but most importantly make it your own.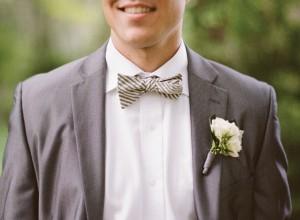 Now, bridal fashion- the part we've all been waiting for. A classic designer, Caroline Herrera creates stunning Southern chic inspired dresses. Her gowns feature carefully stitched flowers cascading down the back for added elegance or strong structured dresses with gentle beading with tulle netting for a modern, but classic, neckline. For this particular trend, cancel out the bling and save it for later ladies. Take it from designers such as Caroline Herrera and wedding dress companies such as BHLDN, it's time to embrace textures! Flowers, bows, elegant back silhouettes grace these aisles. Even push the envelope with blush, cream, and champagne gowns. The most important thing to remember when planning a Southern chic wedding, is to amp up the elegance, but don't over do it. You want to stay clear of bling, large ruffles, and go for more of a vintage look that is fresh. Woah, how can something be vintage and fresh at the same time? Think a vintage silhouette with a fresh twist such as neckline or texture.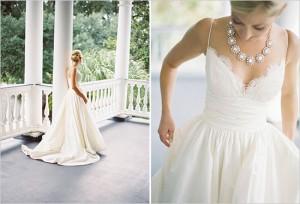 Okay, so you don't live in the south. Can you still pull off a Southern expired wedding? The answer is YES! People all over the world are embracing the simple elegance of Southern style. There's a reason why this trend isn't just a new trend. It's a classic vision that has worked for years upon years. Embrace the fresh lines, beautiful details, and fabulous fashion choices of Southern style. It will stay classic for years to come.