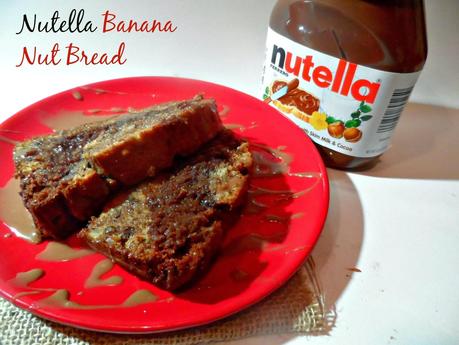 Several years ago I received my first container of Nutella. 
For a while, I was able to resist the thought of a container of the hazelnut gooiness in the pantry. But then I finally dipped in my index finger and went in for a small taste. And then another. And another. 
I found both a friend and a foe that day. I just can't quit you, Nutella. 
And apparently I'm not the only one, especially since now we have a National "holiday" committed to our love of the product. 
Happy National Nutella Day, folks. 
And while you can put Nutella in everything (just take a look at Pinterest), I'm sharing a quick recipe you can make even late at night when you hear Nutella calling your name and you just want a little fix. 
And of course, banana and Nutella taste really, really good together.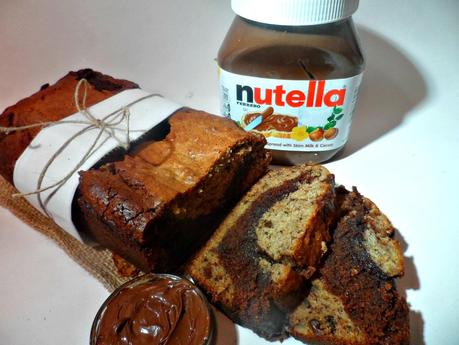 Nutella Banana Nut Bread 
1/2  
cup white sugar
1/2  
cup brown sugar
2  
eggs
3  
bananas, mashed ripe bananas
1/3       
cup milk
1  
cup Nutella
1   teaspoon vanilla
½   teaspoon salt
1/2
  cup chopped nuts
Preheat oven to 325 degrees. Spray 8×4-inch loaf pan with nonstick spray.
In a bowl, stir together flour, baking soda, and salt. In a large bowl, beat sugar and butter until light and fluffy. Add eggs one at a time, beating well after each addition. Add banana, milk, and vanilla until combined. Gradually add flour mixture, beating constantly until just blended. Spoon Nutella into a bowl and soften in the microwave for about 15 seconds. Add 1 cup of the banana bread batter to the Nutella and stir until blended. Add half the banana bread batter to the prepared pan. Top with half the Nutella batter. Pour the remaining banana batter into the pan and top with the remaining Nutella. Swirl batters together with a knife. Bake for 50-55 minutes (the bread will seem undercooked). Cool for 10 minutes, then turn out onto a wire rack to cool completely.