Summer where are you? It's a balmy  freezing 54 degrees here today. Spring/early Summer in Minnesota can be fantastic. It can also be like today and horrible. So I making a delicious cocktail to raise my spirits (literally). To celebrate Memorial Day on May 25th, Captain Morgan is hosting a fun competition to create a Memorial Day punch recipe. It's hard to believe the unofficial kick off to Summer is next Monday. Seriously! This year is flying by.
I am a big fan of Captain Morgan's new flavored white rums; Pineapple, Coconut and Grapefruit. Since I LOVE pineapple I created this Sparkling Pineapple Punch to enjoy while sitting out by our pool. Granted our pool isn't even open yet and still has the cover on, but it was nice enough this past weekend to sit outside and at least enjoy the 75 degree temps.
This really does feel like Summer in a glass. Float a little frozen pineapple and sit back, put your feet up and dream about warmer temperatures and sitting on a beach. Since this has both coconut water and sparkling water it's a bit lighter in calories than a traditional pineapple cocktail; I am looking at you pina colada! And it's hydrating. What's not to love about hydrating while drinking a delicious cocktail.
Captain Morgan Sparkling Pineapple Punch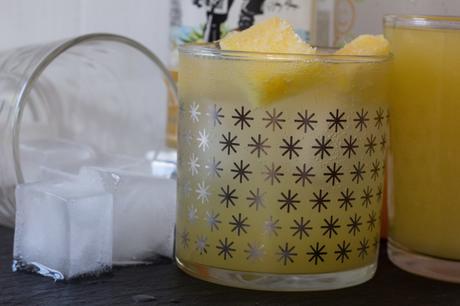 Print
Prep time 10 mins Total time 10 mins   Author:
A Fit and Spicy Life
Serves:
Serves 6
Ingredients
1¼ cups Captain Morgan Pineapple Rum
1 cup coconut water
1 cup pineapple juice
½ liter sparkling water
1 cup frozen pineapple pieces
Ice for serving
Instructions
Mix together rum, coconut water1 and pineapple juice.
Add in frozen pineapple pieces.
Pour mixture into cocktail glasses filled with ice.
Top with sparkling water and serve.
3.2.2925