Growing up in a household that did laundry mostly by hand (yes, in this day and age – imagine washing jeans by hand), I was really excited that I'd finally get to use a washer and dryer in my new place. I was particularly conscientious in my selection process for a washing machine (especially since it will be a long-term investment) – this was the checklist I did up:
It had to be water and energy efficient
It should be easy to use (cos this sis here hasn't used a washing machine in say, the last 25 years)
In this day and age, it should also be smart enough
Last but not least, the price tag should also be wallet-friendly
After spending many an hour browsing and doing comparisons (it was kinda like Tinder, with some duds mixed into the huge assortment of choices out there), I settled on Electrolux's UltimateCare800 EWF9023BDWA 9kg washer, and the Electrolux UltimateCare 800 EDH803BEWA 8kg dryer which could be stacked atop the washer.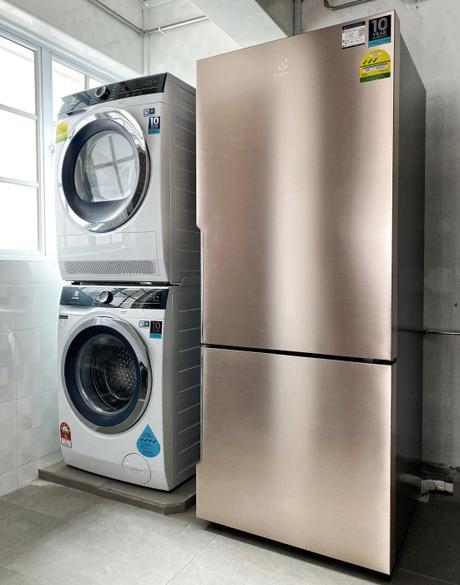 My Electrolux home appliances
WATER/ENERGY EFFICIENCY
The Electrolux's UltimateCare800 EWF9023BDWA 9kg washer is a front loader, which generally is the more water-efficient washer style. On top of that, it comes with the 4 (out of 4 ticks) water efficiency label.
"Won't a dryer consume a lot of energy?" This was the very same question I posed to my colleague, whose answer of "I use it once a week and my monthly energy bill only increased by $10" won me over. What's more, the Electrolux UltimateCare EDH803BEWA 8kg dryer utilises a heat pump technology that places less damaging heat stress on your fabrics. Drying is done at lower temperatures (but still effectively) to keep your clothes looking and feeling new for longer. It has a 5 (out of 5 ticks) in terms of energy efficiency.
Yay for saving moolah on the utilities bill!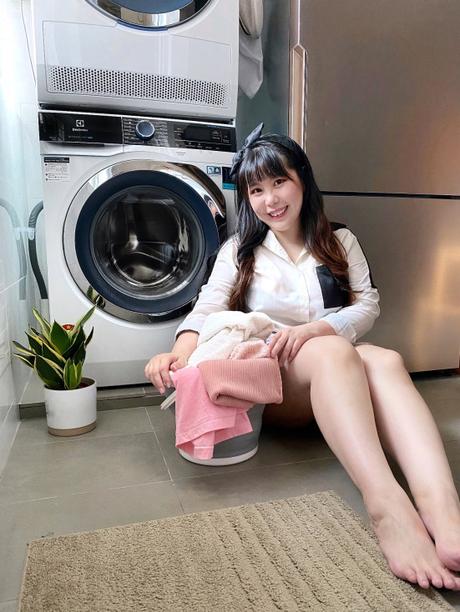 EASE OF USAGE / SMART TECHNOLOGY
Holy moly – with 15 wash programmes, there's literally something that suits my every laundry need. All I had to do was turn the knob and choose from: Cottons, Mixed, Delicates, Daily 60, Tub Clean, Vapour Refresh, Baby Care, Sports, Wool, Energy Saver, Spin, Rinse+Spin, Bedding, Favourite, and Quick 15. If I need to, I am also able to customise each setting (eg the washing machine spin speed).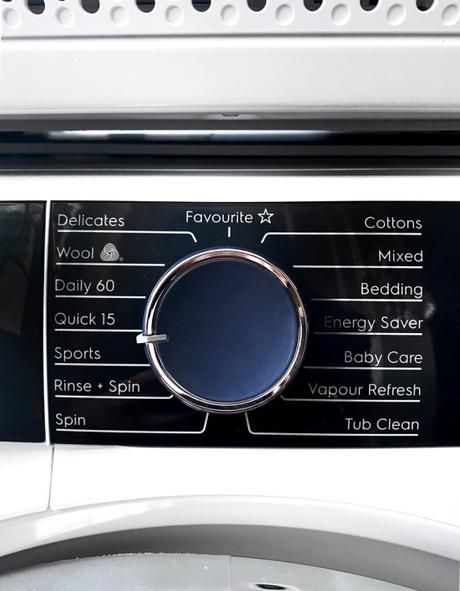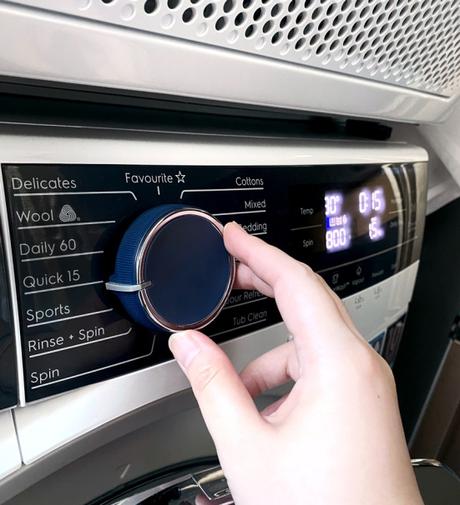 During these tough pandemic times, the Vapour Refresh / VapourCare function has come in very handy – its soft spray of vapour of 40°C is said to remove up to 99.9%* of germs and allergens, and yet remains gentle on my fabrics and remains energy efficient. I use this function to refresh / dewrinkle my clothes that I might want to wear out again later (i.e. to do the various meal takeaway outings).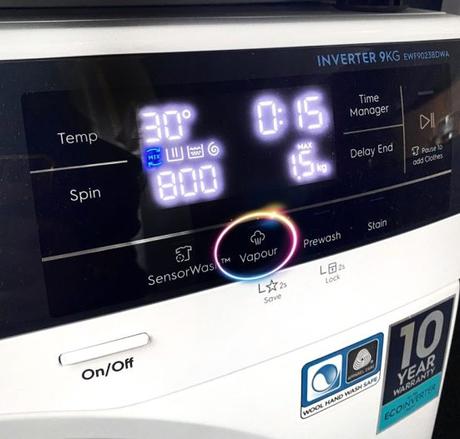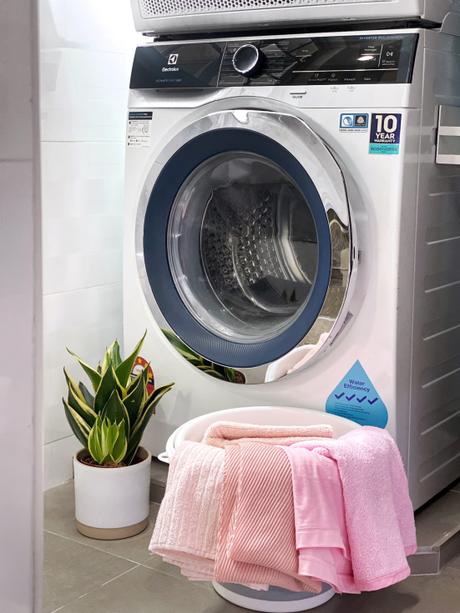 I also especially love that even "hand wash only" woollens can be trusted with this washer – Electrolux's dedicated wool cycle is certified by Woolmark and proven to be as gentle on woollens as hand-washing. Psst – woollens are also safe with the Electrolux dryer!
The washer also comes with other technologies such as:
SensorWash™ technology that automatically detects dirt levels and adjusts the cycle duration accordingly to ensure that your clothes always receive an appropriate wash.
UltraMix™ technology that pre-mixes, fully dissolves and activates detergent (even in cool water) before it enters the drum so that your clothes have better color care. It's said to provide a 40% better color retention after 52 washes!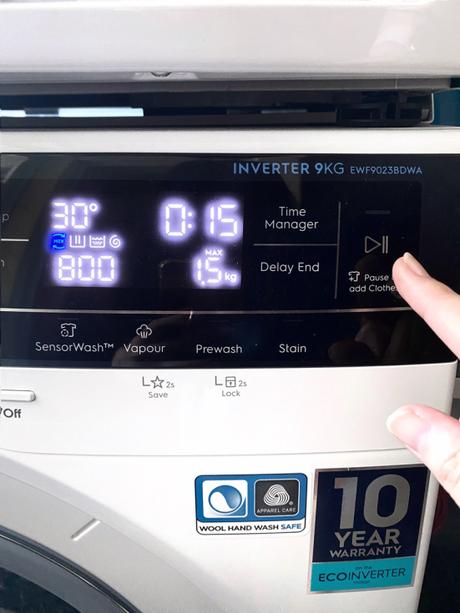 The dryer also comes with an additional easy-to-remove drying rack for your woollens, soft toys and shoes, so they get an even dry without being tumbled and possibly sustaining damage.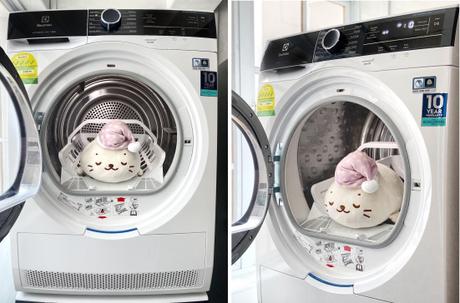 BONUS
As someone who is very sensitive to sound, the washer's EcoInverter motor and the dryer's inverter motor are both an absolute boon – vibrations are reduced, and yet washing/drying isn't compromised. It's quiet (to the point that I can barely hear it from my living room). Did I also mention that Electrolux provides a whopping  10-year warranty on its front-load washer motors (alongside a 2-year general warranty)?
Availability
Electrolux UltimateCare 800 Washing Machine comes in 9kg, 10kg variants
Electrolux UltimateCare 800 Heat Pump Dryer comes in 8kg, 9kg variants
Available from Audio House, Courts, Best Denki, Harvey Norman