To get the most out of a chinese dish is to get the rich flavors or particular ingredients which works in perfect harmony with each other. This butterfly shrimp with snowpeas is just the perfect example of what it means for ingredients to work in perfect harmony. Butterfly shrimp with snowpeas is just the dish perfect for your otherwise healthy lunch ideas, and the best part is that you would not feel bloated anyhow. Now I can say as much as I want about this butterfly shrimp with snowpeas  recipe and how is it enjoyed best with your otherwise healthy lunch ideas or any other meal and what else goes well with it, but unless you actually give it a try the whole effort of writing this article will just go in vain. But none the less I still would recommend you giving this butterfly shrimp with snowpeas a try whether be it your healthy lunch ideas or any other meal and be sure to tell us what you think about it.
Ingredients:
1/4 lb Fresh or frozen medium- Sized shrimp
2 Green onions
3 tbsp Peanut oil
1/3 lb Fresh snowpeas
1/2 c Chicken stock
8 lg Fresh or canned water Chestnuts
2 tsp light soy Sauce
1 tsp Dry sherry
1/2 c Unpeeled straw mushrooms
1/2 tsp Salt
2 tsp Fresh ginger, slivered
1 pinch Sugar
1 lg Clove Garlic, minced
Cornstarch paste
Directions:
Soak snow peas in cold water for 2 hours to make crisp.
Soak shrimp in salted cold water for 1 hour.
Drain straw mushrooms.
Break off ends of snow peas.
Peel & rinse water chestnuts.
Shell shrimp, keeping tail intact.
Deeply slit shrimp around upper curve (don't cut through), de-veining, & spreading shrimp almost flat.
Cut green onion on the bias in 2″ lengths. Slice water chestnuts thinly crosswise.
In small bowl, mix stock, soy Sauce, sherry, salt &Sugar.
Stir-frying:
Swirl peanut oil into very Hot wok.
When oil begins to smoke, add shrimp & stir-fry until they curl (about 20 seconds).
Remove shrimp to serving platter.
Stir-fry mushrooms for 30 seconds; add Garlic & ginger; stir-fry another 30 seconds.
Add snow peas & water chestnuts; stir-fry briskly for 1 minute.
Add stock mixture; bring to boil; keep tossing until snow peas are bright green.
Push ingredients out of liquid, dribble in cornstarch paste to thicken slightly.
Return ingredients, including shrimp.
Stir briefly.
Serve immediately.
Note: snow peas should be slightly undercooked when served.
Enjoy!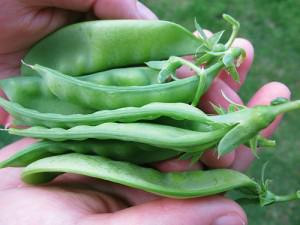 Photo by: penelope waits