Bunny Cookies
If you have kids at home or are expecting kids this Easter than it would be wise to make some bunny cookies for them to enlighten their moods. I still remember when my granny would make me cookies when we use to visit her for Easter. I don`t know how granny's make cookies but trust me they taste heavenly. Any ways this bunny cookies not only looks good but they taste great too. Kids do make a lot noises and stuff when they get together with their cousin and the best way to calm them would be to bribe them with bunny cookies. I know its a little naughty but if you want to be in control this easter than this is the way I guess. And not to worry this is a healthy Easter bunny cookies recipe.
Ingredients
1 1/4 cups white sugar
2/3 cup shortening
2 eggs
3 1/2 cups all-purpose flour
1/2 teaspoon salt
2 teaspoons baking powder
2 1/2 teaspoons orange zest
1 tablespoon orange juice
1/4 cup cinnamon red hot candies
Instructions
Preheat oven to 375 degrees F (190 degrees C).
In a large bowl, cream together the sugar and shortening.
Add eggs and beat until smooth.
Stir in the flour, baking powder, and salt until well blended.
Mix in the orange juice and orange zest.
On a lightly floured surface, roll out the dough to 1/4 inch thickness.
Cut out rabbit shapes with a cookie cutter.
Place rabbits onto an unprepared cookie sheet and place the cinnamon candies onto them for eyes.
Bake in the preheated oven for 8 to 10 minutes.
Frost if desired.
Makes 3 to 4 dozen.
Enjoy!
Liked this recipe than you`ll enjoy making these recipes as well.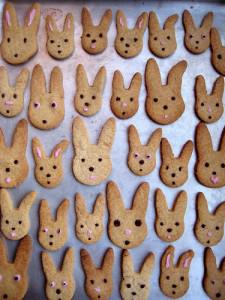 Photo by zestycarl

Rating: 0.0/
5
(0 votes cast)