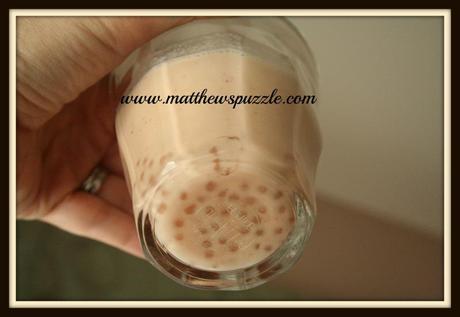 Our middle son likes JUNK. Just ask him, he will tell anyone and everyone that he likes junk food more than real food. Argh, no matter what I do that kid just doesn't want to eat healthy. Every morning my husband, the ultimate smoothie maker in our home, whips up a delicious smoothie for us for breakfast. This is what my husband and I eat for our meal, but we use it as a supplement to the boys' breakfast. Each one has a glass, our younger two get small juice glasses filled with the nutritious drink, while Matthew gets a much larger portion. He actually really enjoys his smoothie. Usually Nico just leaves his sitting there and won't touch it until it is time to go to school, at which point I just have to give in and let him go without it. Then I got smart. I decided to introduce tapioca pearls like they use in bubble tea and create a Bubble Smoothie. I gave Nico a good size straw and boom! The smoothie was gone. Now I simply add a few teaspoons of the tapioca every morning and no more untouched smoothie glasses.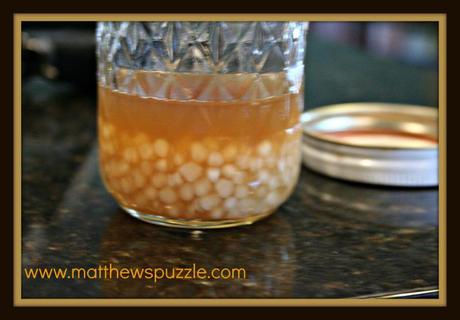 Tapioca bubbles in simple syrup
Bubble Tea Smoothie Recipe Print
Recipe type:
Drink
Author:
Matthew's Puzzle
Prep time:
10 mins
Cook time:
40 mins
Total time:
50 mins
Serves:
4 – 6
A great smoothie enhanced with tapioca "bubble" make this a kid friendly, nutritious drink!
Ingredients
Tapioca
1/4 cup dry large tapioca pearls
3/4 cup water (or more)
Simple Syrup
1 cup water
1 cup sugar, organic
Smoothie
1 banana
1 cup ice
1/2 cup water
1 scoop vanilla protein powder sweetened with stevia
1 handful fresh spinach
1 carrot
5 strawberries
1 Tbs natural peanut butter (optional)
additional fruit as you like (optional)
Instructions
To make the tapioca bubbles place the tapioca and 3/4 cup water in a sauce pan and bring to a boil.
Simmer for 30 minutes or until the pearls become soft, stirring occasionally to prevent sticking.
While pearls are cooking, make the simple syrup.
In another sauce pan heat 1 cup water and sugar, do not boil, until sugar dissolves.
Once tapioca pearls have cooked and gotten soft and translucent, drain and immediately store in enough simple syrup to cover.
Refrigerate until needed.
In a blender or VitaMix blend all ingredients for the smoothie.
Divide into glasses.
Spoon 1 to 2 teaspoons of tapioca "bubbles" into the glasses and enjoy with a straw large enough for the tapioca bubbles to pass.
WordPress Recipe Plugin and Microformatting by

EasyRecipe
2.2.8