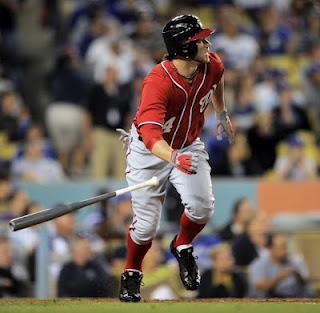 Photo: AP Images - Mark Terrill
- Troy Ballard


The Washington Nationals teased us for two-years with Bryce Harper. The team held baseball fans hostage, as we waited patiently for the kid that blazoned a Sports Illustrated cover at 16 to make an MLB debut.
It was worth the wait.
The Nationals decided to unveil Harper in a place that is nearly comically fitting -- Los Angeles. For those who had fears of the young 19-year old being starstruck by celebrity status and the rigors of being a professional player -- forget it.
Under the brightest of lights of LA, Harper killed it in his MLB debut.
Sure, his first two at-bats weren't fabulous or extraordinary. In fact, they were weak stuff. Right when MLB fans were ready to write him off in his first game, Harper rockets a laser over Kemp in center field, reaching second with room to spare in the top of the seventh.
But like any good Nationals inning, he was stranded on base.
Don't fear though -- Harper wasn't done.
In the bottom of the ninth, with the game on the line, Harper makes contact -- and pops-out. But it's a good enough shot to score the runner on third, and the Nationals take the lead in dramatic fashion. At this point, Harper would be given the nod for giving Washington the win in the ninth. Amazing, right?
No so fast -- again.
Washington practically had the ginger-ale ready in the locker room (after all Harper's not 21 yet), ready to celebrate his successful debut in MLB. But, like any good Nationals game, closer Henry Rodriguez blew it in the ninth, and allowed the Dodgers to tie the game.
Extra innings -- Washington goes three up and three down.
Who's up for LA? Matt Kemp.
It wouldn't make sense any other way. It just had to be this way for Harper. And the Nationals obviously were so caught up in the big rook's debut to acknowledge who was at the plate for the Dodgers. And what does our boy, Kemp-Kemp do?
He destroys a ball into deep center. Walk-off. Game over.
Even with a loss, the Nationals and the world got a good sense for Harper. The kid can play ball, and Washington doesn't appear to have anything to worry about. The team may have dropped this game, but that's just Kemp being Kemp, and the Nats' very closely walked out with a victory thanks to the new guy.
Congrats, Harper. You had a great opening to your career, and hopefully, the success continues. It's only a matter of time before Kemp is applauding you for walk-off home runs.