I had leftover wonton wraps sitting in my fridge and I didn't feel like making more potstickers with them, so breakfast it is!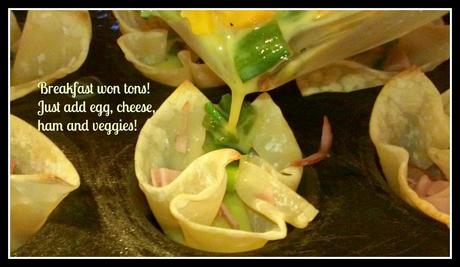 This recipe takes no time at all! I use a mini muffin tin – sprayed with cooking spray so they don't stick.
Print Breakfast won ton cups
Yield: 24
Feel free to change this recipe up, using breakfast sausage, different veggies or cheeses - so many possibilities!!
Ingredients
won ton wraps (I used 24)
4 eggs
1/2 cup skim milk
1/2 roasted poblano pepper
4 slices deli ham
2 green onions
1/4 roasted orange pepper
salt and pepper to taste
sprinkle of feta cheese on top
Instructions
Spray the muffin tin with Pam cooking spray.
GENTLY - press 1 won ton wrap in each muffin tin
Bake at 350 degrees for 5 minutes.
Meanwhile, while the won tons are cooking. Mix in a bowl the eggs, milk and spices. Chop the veggies and add that to the bowl and set aside.
Slice up the deli ham in small pieces.
By the time that's done, it's time to take the pre-baked won tons out of the oven.
I gently laid the ham on the bottom of each one.
A good idea is add the egg mixture to a Pyrex measuring cup with a spout so it's easy to pour.
Slowly fill each cup about 3/4 the way up. Sprinkle the feta cheese on top and bake for 10 minutes or until the edges are browned and the eggs look set.
These turned out so good - what a great way to start the day!
Schema/Recipe SEO Data Markup by ZipList Recipe Plugin2.0
http://www.slim-shoppin.com/breakfast-wonton-cups/
Another good idea is from Peas & Crayons – they did pizza with wontons!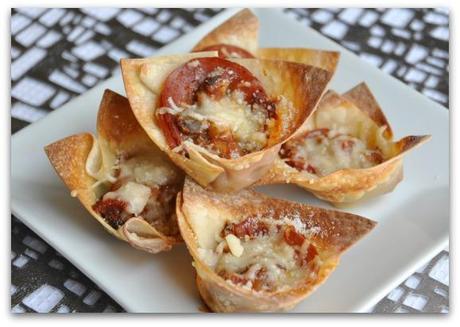 PHOTO COURTESY OF PEAS AND CRAYONS.COM
Or what about taco cups? Nicole from Prevention RD made these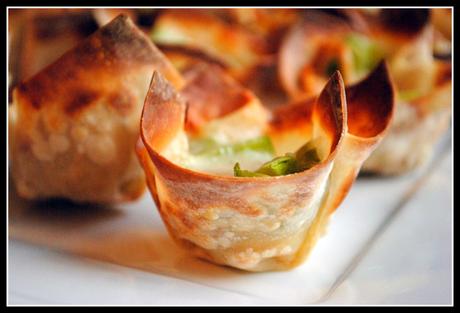 PHOTO CREDIT FROM PREVENTIONRD.COM
And look what Sydney made from Crepes of Wrath -
She made sichuan wontons that look absolutely amazing!!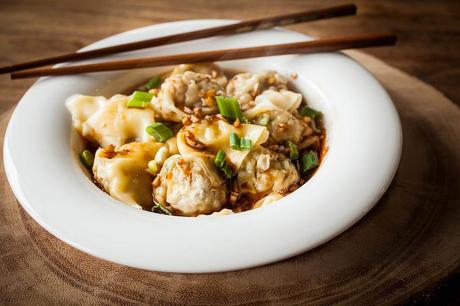 PHOTO FROM CREPES OF WRATH.COM
There are so many different things you can do with wontons! I love it!!!
What is your favorite thing to make or eat at a restaurant that has wonton wrappers in it??