When you grow up in the Midwest you tend to eat a lot of meat and potatoes. As kids we ate a lot of casseroles (hot dish if you are from Minnesota), roasts, and chicken. While it was hearty and good most of the foods we ate were pretty basic. As my love for cooking has expanded and my palate has changed, I have focused on trying new foods and really looked for unique flavors and ingredients.
Scott and I sat down to eat this Braised Chicken with Parsnips and Leeks and noticed how far from childhood eating habits I have come. I don't even think I new what a leek or a parsnip was until 10 years ago. And Scott asked what he was eating after he took a few bites and was confused on what he was tasting. I am thankful that we get to experience all these new flavors, that I rarely make the same thing twice and that we focus on eating healthy.
Chicken thighs have so much more flavor and when you braise them with parsnips and leeks everything become incredibly tender. I would call this a way better roast and veggies.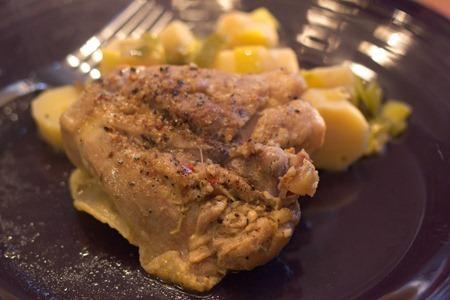 Braised Chicken with Parsnips and Leeks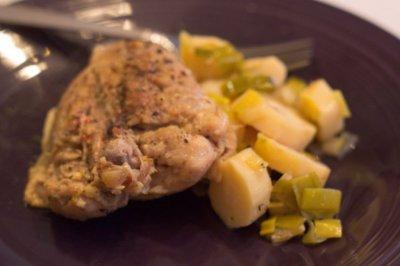 Prep Time: 10 Minutes
Cook Time: 1 Hour
Keywords: entree chicken
6042685
Ingredients (Serves 4)
2 Tbsp vegetable oil
2 lb skinless bone-in chicken thighs
2 leeks, white and pale green parts thinly sliced (2 cups)
1/2 cup apple cider vinegar
1/2 tbsp dried sage
1 lb parsnips, peeled and cut into 1-inch pieces
2 cups low-sodium chicken stock
Salt and Pepper
Instructions
Heat oven to 350 degrees. Heat oil in a large ovenproof pot over medium-high heat. Season chicken generously with salt and pepper. Cook until golden on all sides, about 5 minutes, remove chicken and place on a plate.
Reduce heat to medium and cook leeks until tender, about 4 minutes. Add vinegar and scrape up brown bits with a wooden spoon. Add parsnips, sage, stock, and seared chicken and its juices and bring to a boil.
Cover and transfer to oven. Braise until chicken and parsnips are very tender, about 50 minutes.
Powered by
Recipage