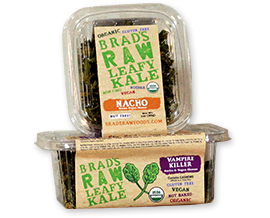 I was provided with several Brad's Raw Foods Products to help facilitate this review.
I am truly OBSESSED with Brad's Raw Foods! Even before I was given a few of their products to review, I tried their Brad's Raw Leafy Kale Vampire Killer and Naked. Both are AMAZING! I am not ashamed to say I ate the Vampire Killer in just one sitting. They are really that good. As you know I'm on Weight Watchers and I think the whole container is only 4 points. They are truly some of the tastiest snack items I have ever had.
The foods are organic, gluten free, Non-GMO, Kosher and Vegan. But most importantly, they taste great while doing all of that. The Brad's Raw Leafy Kale Vampire Killer ingredient list reads like this: *Kale, *Red Bell Peppers, *Sunflower Seeds, *Cashews, *Scallions, *Garlic, *Lemon Juice, *Chickpea Miso (Rice, Chickpeas, Sea Salt, Water, Koji Spores), Himalayan Sea Salt. The * represents Organic Ingredients! Holy cow, that is a lot of organic foods and I pretty much know what everything on the list is, except maybe the Koji spores.
If you are into the Raw movement you will be interested to know that Brad's Raw Leafy Kale is not heated above 115 degrees when it is dehydrated. That helps keep the enzymes and nutrients intact.
Not only did I try the Brad's Raw Leafy Kale, but I also tried their Brad's Raw Chips Cheddar. These pack a powerful crunch. I was actually surprised at how crunchy their are, especially since their aren't really a cracker and they aren't baked or fried. And something else I love, they use sustainable production which means all of their residual materials are composted and returned to the fields. Does it get any better than that? I personally, as I said above, am obsessed with their products. I saw on their website they also offer onion rings, but I haven't been able to find them in my neighborhood yet. I can't wait to locate this product too. I bet they would be great with a good burger!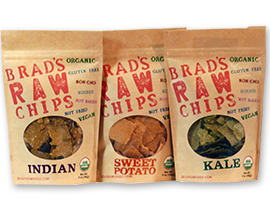 Anyway, my husband and I picked these up on a whim, and I am so glad we did. These have fast become my favorite snack, especially the Raw Leafy Kale. I hope you try some when you see them in your market and if you do, drop me a line telling me your thoughts and which ones are your favorites.