This is not a new recipe this month, but it is a new recipe in the grand scheme of my eating history. And it's one that's become one of my regulars.
I'm not sure what it was growing up, but I was sure I hated salmon. In reality, I had it rarely — maybe because I didn't like it when I did — and then always made by my grandmother. (This is not a slam on Grandma's cooking skills in general; she was fabulous. Her salmon and I, however, did not agree.) So I had salmon cooked in a single style, didn't like it — and concluded that it was the base food product rather than how it was prepared.
I mean, I was, like, five. This seems like age-appropriate flawed logic. And to be fair, a number of other salmon dishes — or rather, the description of a number of other salmon dishes — did not appeal in the many years since.
Until I first tried sushi. While I appreciate that sushi grade salmon is probably overall a better quality of fish than whatever my Grandma bought, I was floored by how much it tasted like an entirely different food. Even then, the evolution was slow in progressing.
I thought I liked raw salmon but only raw salmon. Not cooked. At all. But I wanted to.
I really like fish in general, and oily fish are some of my favorites. Among them, salmon tends to be one of the more widely available, both in restaurants and grocery stores, at least in my area. If I could learn to like salmon, it would give me a lot of new options for fish food.
And so I wanted to try. Not to force myself into anything, but to experiment.
It started when I ordered something called ginger salmon for lunch at a local restaurant. The picture showed it breaded, deep fried, and covered in sauce — so I figured that even if I wasn't thrilled with the salmon specifically, the other flavors there would cover it up.
Turns out I was right and wrong. The sauce was flavorful and fabulous. It was the predominant feature of the dish rather than the fish. And the salmon itself was sort of dry and not as… salmon-y as I'd remembered. What surprised me the most, however, was that I did not mind the salmon-y flavor I did taste.
Overall, I liked the taste effect so much I started working out how I could replicate the taste at home, except maybe minus the batter and sticky sauce (which are not my favorite things for eating on a regular basis). This is what I came up with:
Ingredient Note: Fairly obviously, a recipe with "salmon" in the title is neither vegetarian nor vegan. However, it is dairy and gluten free and, to the best of my knowledge, contains no other common allergens.
Ginger Salmon:
salmon fillets — I like sockeye, but I can't think of any reason this wouldn't work with another variety.
garlic powder
white pepper, finely ground
ground ginger
brown sugar — apx. 1 tbsp. for every 1/3lb. portion
oil for pan frying
Directions:
Cut the salmon fillets into the appropriate size portions for your eating needs and preferences. Lay them out in a single layer on a plate or tray.
Sprinkle the non-skin side of each portion with a light dusting of garlic and an even lighter dusting of white pepper. If I had to estimate, I'm using maybe 1/4 teaspoon of garlic per portion — and less than that of the white pepper. Also, when I haven't had any white pepper on hand, I've tried substituting black pepper but haven't been completely satisfied. I remain torn on whether it's better to substitute black pepper or to just skip the pepper entirely if I'm out of white pepper.
Sprinkle a little more ginger — maybe 1/2 teaspoon — on top of that. Press the spices into the skin and let stand for about 10 minutes.
Have another go with the same amount of ginger. Then sprinkle the brown sugar on top. There should be enough brown sugar to make a sort of thin crust on top.
Heat the oil in a skillet large enough for your salmon portions.
Cook over medium high heat to your desired degree of doneness (maybe 3-5 minutes on a side, depending on thickness), flipping the salmon over halfway through the process. Flipping is pretty important here since it will allow the brown sugar to melt — and then become all crackly and good when you remove the salmon from the pan.
Serve immediately.
My current preference is to serve with a dark green veggie — maybe kale or turnip greens or broccoli. I am a fan of the savoriness of the vegetables combined with the sweet and spiciness of this salmon preparation.
I keep thinking that these would work wrapped in tinfoil and thrown on the grill, too. However, we also keep using them to fill in our "we need something that can be prepared quickly" menu days. Those days are generally not compatible with "wait 45 minutes for the charcoal grill to heat up" days, so. Maybe I'll try that one day this summer, but a gas range and a skillet works for now.
Anyone else have any good ways to eat cooked salmon? At this point, I am feeling experiementy again!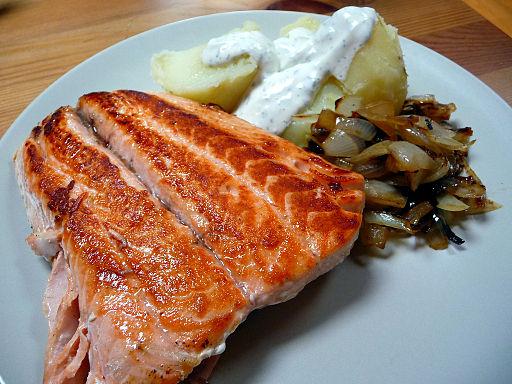 [Not my fish -- By Jorge Díaz from Madrid, Spain (salmón a la plancha) [CC-BY-SA-2.0 (http://creativecommons.org/licenses/by-sa/2.0)%5D, via Wikimedia Commons]