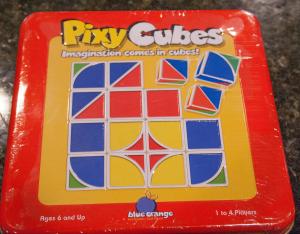 Blue Orange is one of my very favorite game manufacturers. I was lucky enough to be introduced to them when they helped sponsor a Brandcation I happened to attend in 2012. I got one of their Spot It! games. I sort of love it. Not only is that game really, really fun just because it is, BUT as a mom of a child with autism I noticed that it helps with visual scanning ability. Matthew had to work really hard to improve his visual scanning and we tried all sorts of games and books to help him. Blue Orange Spot It! was a fun way for the whole family to play with him and still improve his scanning skills, which are vital for all children to develop.
And Blue Orange had recently teamed up with Chick-fil-a to provide some of the restaurants kids meals toys. We picked up Pixy Cubes that way. My middle son, Nico, really enjoyed Pixy Cubes. He loves to play with building games and Pixy Cubes asks you to recreate colorful pictures using the cubes. It is challenging but fun and helps the children decipher patterns and colors.
Blue Orange Games have a ton of other fun and educational games, things you really don't mind your kids playing. Matthew's birthday will be coming up soon and I know I will be picking up at least one more Blue Orange game for him. We are working really hard to have him enjoy things other than electronics. A great way to keep up with Blue Orange Games is on their Facebook page. Which Blue Orange Game are you interested in playing?