Good Morning & Happy Monday!
I hope you all had a wonderful weekend.  I had two baby showers to go to and some raw vegan food-prep to do, it was a fun weekend and I look forward to recapping that later.  Right now, I'm excited to share about our Memorial Day weekend – it was a doozy!  We had two weddings to attend.  One was Nick's neighbor growing up and friend from Boy Scouts which was in town.  The second wedding was for Nick's cousin and it was in Blountville, TN – the weddings were less than 24 hours apart, 8.5 hours away from each other and we intended to be at both.
Let's back up though to Friday…. On Friday, I felt like I was coming down with a sinus infection.  Immediately after work, I went home and tried to rest up, drinking lots of fluids.  I knew that I couldn't get sick because we had an intense weekend ahead.  Thankfully, I woke up Saturday morning feeling much better as if I was on the mend!  Nick picked me up early Saturday morning so we could work on a French Drain at my boss' house.  That was some of the toughest work I've ever done.  Nick had agreed to the project before getting a job offer so he was able to start earlier in the week, but paused Wednesday, Thursday, & Friday because of his new job.  We picked back up on Saturday, hoping to finish the project.  I was there for some manual labor and motivation.  We worked from 7:30 AM – 4:30 PM.  We finished up just in time.  We rushed home to get ready for our first wedding that weekend. We barely made it to the wedding on time and at this point, my poor legs were killing me from all the squatting that day for the French Drain work.  We stayed at that wedding for a brief while to say hello to the very few people Nick knew, enjoyed some food, had one beverage each, zero dancing ensued, and we devoured rock candy on the way back to Nick's.
We decided to go ahead and start our journey to Blouteville, TN for the second wedding.  It was at 1:30 PM on Sunday so we knew we were driving through the night.  We drove for a few hours starting at 9 PM before stopping at a rest stop to take a nap.  We napped from 11 PM to 3 AM and then I woke up to drive until Sunrise.  Nick finished off the drive and we arrived to the hotel by 11 AM.  Luckily, they let us check in early so we could go ahead and get ready and meet up with Nick's fam before heading to the wedding.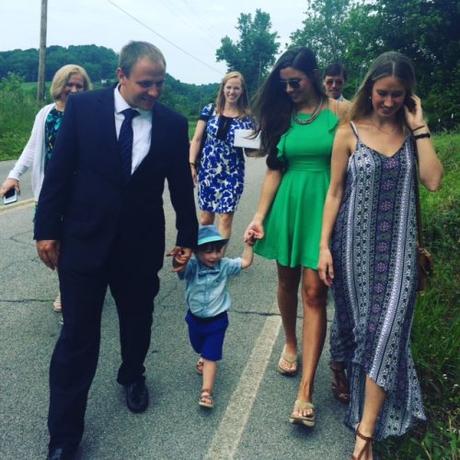 With Trey & Kathryn living in Florida, we don't get to see Cade as much as we would like so every time we're all together, he clearly steals the show.  His cuteness knows no bounds!  He loves his aunts and uncles so so much, it is the most precious thing to see.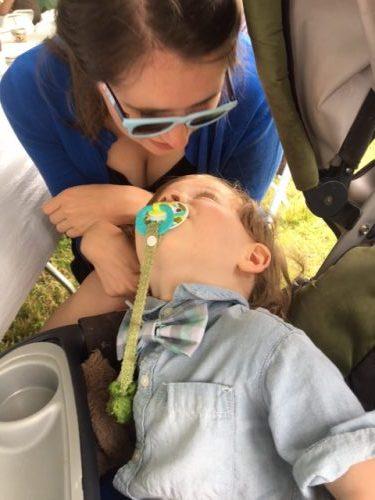 What a little ham.  I love him so much!
This was one of the funnest weddings we've ever been too and I was surprised by how much I enjoyed the outdoor wedding.  I'm not an outdoorsy person – I don't like bugs and grass can be so itchy, plus there are ants… and I don't do ants EVER!  They did a great job planning this outdoor wedding though.  I'm so disappointed that I didn't take more pictures of the decor, food, drinks, and farm!
The ceremony was held outside and it was short & sweet.  The bride was absolutely beautiful and there was clearly love in the air!  Once the ceremony was over, the bridal party went to take some pictures and we reconnected with friends and family.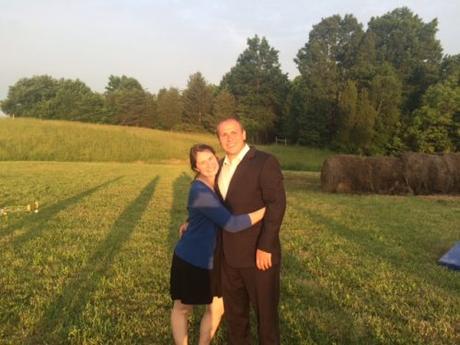 It was fairly hot so my hair went up pretty quickly.  The rest of the day was full of yummy food & drinks paired with lots and lots of dancing!  Nick's family is so much fun!  This was my first time meeting his cousins in Pennsylvania and they were so sweet and fun to hang out with.  His cousin, Katherine, who got married, as I mentioned… was gorgeous!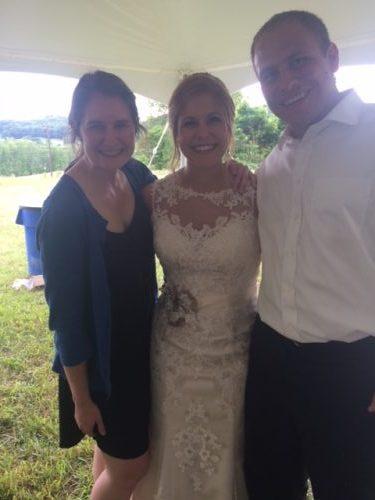 I didn't get the best pictures (my phone isn't doing a spectacular job these days), but look how pretty!!!  The wedding wrapped up around 8:30 PM and we decided to meet up with some family at Olive Garden to end out the night.  The visit was extremely short, but oh so sweet.  Hopefully we have another reason to all get together soon!
I woke up Monday morning completely miserable though and my sinus infection came back with a vengeance!  I'm so glad it decided to post-pone itself until after the wedding, but I was pretty miserable the rest of the week.  The drive home was awful and a struggle for both of us.  Nick had a pretty bad headache when we started out, but it cleared up a few hours into the drive, thank goodness.  I only worked an hour and a half on Tuesday because I was so sick, so I rested up Tuesday, felt a little better Wednesday, and about 95% Thursday.
Overall, Bloutville, TN was good to us!