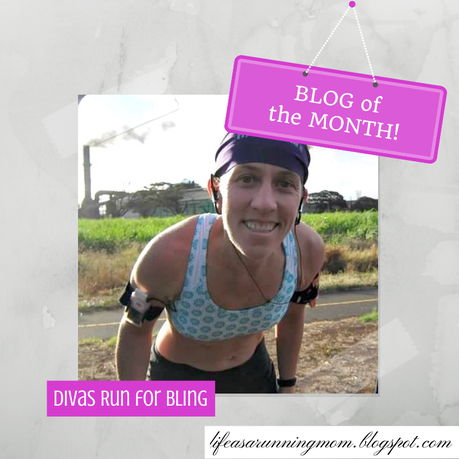 It is that time of the month again! Time to spread some love and share some information on another wonderful blog out there. Perhaps you know it, perhaps you don't, but why not read a bit about this month's blog and tell me what you think?!
Introducing Heather from Divas Run for Bling! Heather
is a runner, blogger, and scrapbooker living in Chattanooga, TN with her husband and three fur children. She blogs about her journey as a runner - the races, training, lessons learned, healthy living, tips and advice and, of course, the bling. Heather's blog isn't completely new to me as I have been following her on facebook and twitter but I am sure you know what that means....I miss a lot. Both social media forums can have a lot flying by and if you are not watching all day, and I am not and never will be, lots can fly by. Thankfully I just added her to my bloglovin' list as well....assuming I find the time to sit down and read all the blogs I want to read. Oh my! So little time!
It seems I have stumbled upon her Recipe Thursday today and come on, that is a reason to set off alarms to see what Heather has to say! I love reading about recipes in hopes of finding a new gem for my kitchen. Today Heather is sharing her Mocha Coconut Protein Smoothie. In all reality, with the dairy in this recipe it will not find its way into my tummy but it did remind me how much I love making smoothies. I just try not to get the blender going before 4:00 am at my house but am now contemplating adding a blender to our "office kitchen" at work. It may be nice to fancy up my daily smoothie with some added yummy ingredients. Currently it is my VegaSport protein powder and water. Yep, I am #vegafueled!
If you have a spare moment though please stop over and say HELLO to Heather and let her know Erica G sent you. It is always good to spread some love!
If you would like your blog to be featured, please fill out this form.
Daily Gratitude: I am thankful for dairy-free, gluten-free, and soy-free protein powder mixes!
Daily Affirmation: I spread happiness every day in one way or another.