Did you know that I am a little bit obsessed with lipbalms? You didn't well...shame on you! Ha, but seriously, I've been swearing by the Summer Fruits Eos Sphere Lip Balm for a few months now, and I absolutely love smelling it, using it and just plain looking at the packing. It smells and tastes divine, and is so adorable. I could rave about this product for a life time, but I've actually already done that, so I won't bore you for a second time ;)
Well, watch out Eos, because you may have found yourself a contender in Blistex's new Raspberry Lemonade Blast.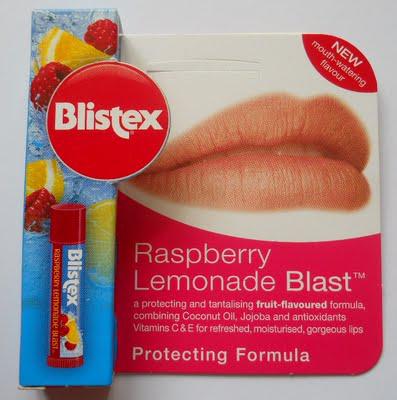 I received this in my Goody Bag from Girls Day Out over last weekend, and it has definitely become one of my favorite products. I absolutely love it and wanted to do a very mini review of it.
What I love so much about it: When I was in Infants, my mom used to buy me these Strawberry-flavoured lip balms that used to taste amazing. I loved them so much, that I was always reapplying the stuff, because I'd licked it off. I've never come across another lip balm that had that effect until I tried the Raspberry Lemonade Blast.
What else is so great about it? I have to admit that this isn't going to be ideal if you have particularly chapped lips, or when they're dry in the winter, but for the summer months or when you don't need a medicated lip balm, this is a delicious alternative that is really Moisturising.
Who would I recommend it to? I'd recommend this to anyone with a remotely sweet tooth! Ha, if you're a fan of fruity stuff like lip balms, perfumes, soaps etc then I'm pretty certain that you'll love this.
Would I Purchase? Most definitely. The price is fairly average for a Blistex, and I really do love it!