I am dreaming about sitting on a deck or patio with a cold beer in hand feeling the suns warmth on me. Oh wait. It's still March, we have snow on the ground and it has been colder than average. But I really wanted something grilled. So I broke out our Cuisinart griddler and cooked up some Bilinski's Chicken Sausage.
We tired the Spinach and Feta Chicken Sausage, they are organic, gluten and wheat free with no pork casing on the outside.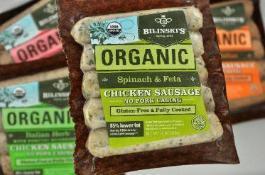 These are so darn good! The griddler did the trick and got me that summer taste I was after. It's too bad we have at least a month (most likely more) until grill season. I will eat these in the meantime. Great on their own or in a dish like a skillet pasta (Bilinski's has one on the website that looks delicious) or stir fry. Thanks to Bilinski's for sending me their delicious chicken sausage. I can't wait to try them on the grill this summer.