I have been raving a bit about this palette for this last few weeks. As you are about to see, there is a good reason for it. This palette has become a favorite of mine because it is inexpensive, but the quality is outstanding.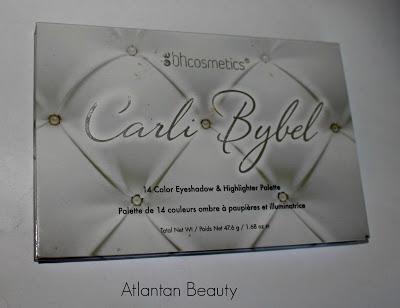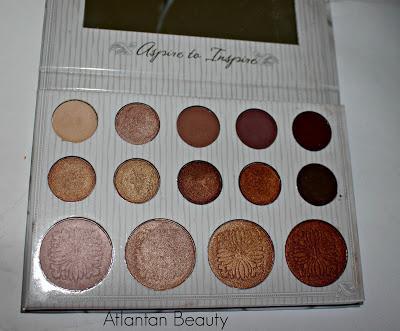 As always, I will include swatches with and without primer. =)
This palette comes with 10 eyeshadows and 4 highlighters that can also double as eyeshadows.
Row 1:
Matte beige
Shimmery golden, peachy pink. This one almost looks like a duo chrome. 
Matte tan with a hint of plum
Matte purple
Matte maroon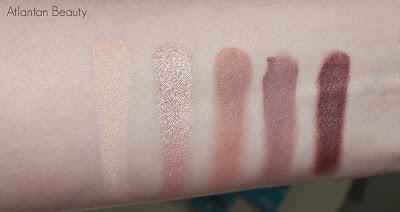 Without primer.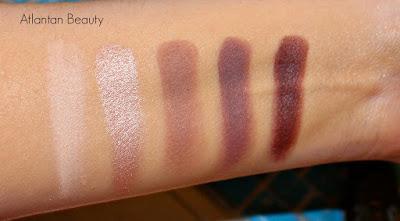 Swatched over primer.
Row 2:
Shimmery golden peach
Shimmery light gold
Shimmery/metallic bronze 
Shimmery/metallic copper
Matte chocolate brown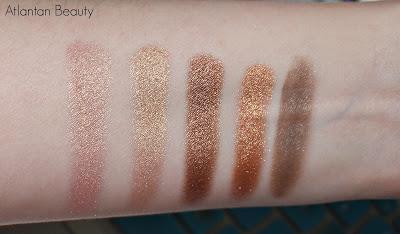 Without primer.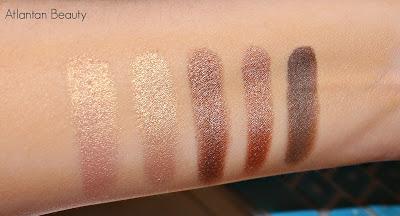 Over primer.
Row 4:
Shimmery pale, silvery pink
Shimmery golden peach. It is similar to the second shade on the first row, but this one doesn't have as much pink in it.
Shimmery light gold
Shimmery bronze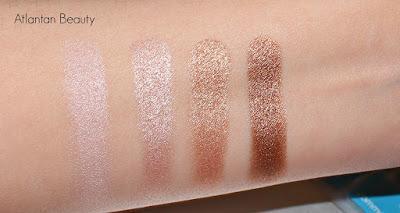 Without primer.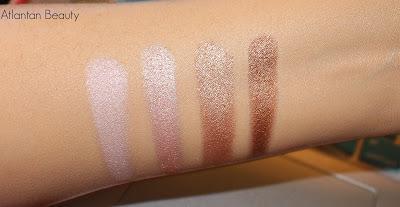 Over primer.
I just realized that that my shade descriptions are repetitive. A lot of the shades are similar, but there are marked differences that you can see in swatches and when the shadows are applied.  The quality of these shadows is better than a lot of higher end brands that I have tried. The pigment, even without primer is very good. But when worn over primer, it is outstanding. Like most palettes, the shimmery shades have better quality than the mattes. The matte shadows lack some of the pigment and they are a little bit patchy. However I haven't had any issues with application. Every shade blends easily and the shadows maintain their pigment. I have experienced a teensy bit of fallout, but it brushes right off. The formula is buttery and creamy, but I do feel a little bit of grittiness. They don't crease, fade, transfer or any of that nonsense.
Now for the highlighters/eyeshadows. The formulation and quality of the highlighters is the same. I use the lightest two shades as highlighters fairly frequently now and I have had no problems. In fact, they are awesome. Now they aren't on the same level as Becca, but for the price, they are great. They are buttery smooth and easy to blend out. They are shimmery, but don't get that confused with being glittery. I use the darker two as eyeshadows and they are gorgeous! They really make my blue eyes stand out.
This is a very neutral palette, so you won't get any dramatic looks out of this palette by itself. However it is very easy to work in a pop of color with a liner or a different eyeshadow. If you are not a fan of shimmer eyeshadows, this will not be the palette for you.
The packaging is cute, simple, and lightweight.  It is made out of hard cardboard and the magnetic closure is sturdy. This would be a good palette to travel with. The only downside is the smell. I have noticed a scent that I am assuming comes from the cardboard. It isn't a bad scent so to speak, but it could be something for you to be mindful of.
This palette is $12.50 and it is worth every penny. You need it in your collection. You can find it here.